Barts goes flower power for Chelsea Show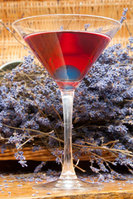 Secret speakeasy bar Barts is going flower power in honour of The Chelsea Flower Show this year, which will take place from 21st-25th May 2013.
Located a stone's throw from the world's most famous flower show, Barts is the ideal place for drinks after any visit to the exhibition. Talented bar manager Vincenzo Sibilia has created an exquisite cocktail in homage to the show, aptly named 'The Chelsea Flower'. A heady blend of home made Lavender infused Grey Goose Vodka, peach liquor and Jasmine Essence, the drink will be served in a delicate martini glass and garnished with a Molecular Raviolo of Lavender and fresh Lavender flower on top.
Barts is renowned for its fancy dress box and for the duration of the show the box will be themed along the lines of 'Flower Power'. Guests will be able to delve into the box of delights and find anything from ultimate hippy flares and John Lennon specs to wings and flowers worn by flower fairies.
Just in the time for the Chelsea show, Barts will also be re-opening its very own Cuban garden where guests can sip their drinks surrounded by lush foliage and exotic plants.
Barts is a quirky 'speak easy' style bar located on the prestigious Sloane Avenue. It is the brainchild of Duncan Stirling and Charlie Gilkes, the dynamic duo that own the Inception Group that also comprises of the highly successful 80's themed nightclub, Maggie's and an Englishman's Italian, Bar, Pizzeria and Karaoke, Bunga Bunga in Battersea. This summer they will also be launching Mr Fogg's in Mayfair, a recreation of the actual home of Jules Verne's most famous adventurer, Phileas Fogg, as well as a Disco, an underground boîte in Soho, inspired by the disco movement, which started in 1970s Manhattan.
Barts will be the pick of the bunch for this year's Chelsea Flower Show.
For more information, visit barts-london.com.