Marilyn Monroe crowned queen of the iconic curves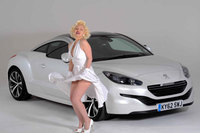 More than 50 years after her death, screen queen Marilyn Monroe has been crowned owner of the most iconic curves of all time.
The Hollywood actress topped a poll of men and women, beating modern curvaceous pin-ups such as Kelly Brook, Christina Hendricks and Kim Kardashian.
The study, commissioned to mark the launch of new and enhanced, curvaceous Peugeot RCZ Sports Coupé, found that old school Hollywood glamour is still the style to beat, as four of the top five most iconic curves hail from that era.
Four out of ten people voted for Monroe's famous body, which she showed off to great effect in classics such as Some Like it Hot and Misfits. Last year the blonde bombshell, who is believed to have measured 37-23-36, was named the Top Beach Body of All Time.
Speaking about the results of the study, that surveyed 2,000 men and women across the UK, Boris Reinm?ller, designer of the Peugeot RCZ, said: "The Peugeot RCZ was designed with the enduring allure of the body form and feminine curves in mind and Marilyn is the greatest physical embodiment of this natural magnetism.
"Marilyn's femininity, class - and above all - her curves have provoked desire to emulate her, maintaining her position as an icon for over six decades. The Peugeot RCZ salutes both her curvaceous shape and timeless style.
In this latest survey Monroe was joined in the top five by other silver screen Hollywood beauties including One Million Years BC star Raquel Welch (24%), Italian siren Sophia Loren (23.30%) and the often controversial Jayne Mansfield (18.40%).
Model Kelly Brook was the only current household name to make the top five, with a quarter of the votes. Pregnant reality TV star Kim Kardashian only mustered seven per cent while stunning Christina Hendricks just five per cent.
And it is not just famous curves that people desire, the study found both men and women consider curvaceous women to be more attractive in general.
Six out of ten people said they favoured curves, while less than one in ten (8.60%) voted for skinny size zero women, such as fashionista Victoria Beckham and supermodel Kate Moss.
Boris added: "The study shows the continued appeal of the curve and old-school Hollywood glamour, which will never go out of fashion. More than 50 years after she died there is no-one to match the curvaceous wonder of Marilyn Monroe, she had it all – style, class and enough edge to thrill men and women for generations - the perfect combination.
"Her appeal has not diminished over the years and the same is true for the attractiveness of the curve. With this in mind, we are proud to have produced what we know is the most curvaceous car on the road today. With its aerodynamic shape, the new look Peugeot RCZ is both a delight to look at and joy to drive."
The study also found that, perhaps unsurprisingly, men find women's bottoms (35.90%) the most attractive curve, followed by their busts (24.50%) and waist (17.70%).
While females consider other women's waists to be their most appealing curve (43.10%), followed by bottoms (11.90%) and busts (7.8%).
The small of the back, known as the 'scoop' was voted the most attractive curve by seven per cent of the population. Back scooping surgery has seen as increase in popularity since the queen of plastic, Heidi Montag, underwent the procedure in 2010.
One in ten favoured the nape of the neck, or the area between the neck and the shoulder.
The Peugeot RCZ, which was first launched in 2010, has recently enjoyed a re-style, but its distinctive extensive curves, including the distinctive 'double-bubble' roofline, remain untouched. The refreshed model boasts a new style grille and slimmer grille and air intake, which is highlighted by two chrome bars and 'feline' shaped LED daytime running lights. The re-styled Peugeot RCZ also allows for greater personalisation, with new colour and trim combinations, including an option to add matt black roof arches – a curvy and characteristic aspect of the Peugeot RCZ Sports Coupé.
Most iconic curves of all time
Marilyn Monroe (40.80%)
Kelly Brook (25.80%)
Raquel Welch (24.00%)
Sophia Lauren (23.30%)
Jayne Mansfield (18.40%)
For further information on Peugeot visit peugeot.co.uk.