Put the Hammer down cycling in Les Gets this summer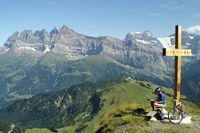 Cycling has hit the big time with the British population, with bike sales leaping into the stratosphere and a new phenomenon of Lycra clad individuals hitting the roads each weekend. This summer sees a new collaboration between cycling experts Hammer Sports (Hammer Sport) and chalet specialists VIP SKI. This results in a combination of luxury accommodation with training to improve cycling experience and skills.
Les Gets and the surrounding area, including Morzine and Avoriaz is the haunt of many alpine thrill seekers in the summer. From mountain biking to paragliding to white water activities, the resort has it all. Cycling too is well represented with Sportives taking place as well as the perfect suitability of roads and altitude for training.
There is a choice of three weeks available with different goals and results from each one. The grand tour of these weeks is from the 21st to the 28th June, the week of the La Morzine Vallee d'Aulps Sportive event. A keen field will be present for the event vying for glory but with a large proportion behind looking to beat personal bests or simply complete the course. Hammer Sports will ensure preparation is ideal with an easy preparation ride and technical assistance on offer. After the event and recovery day rides to Chatel, Flaine and Megevette allow cyclists to climb some of the roads featured on the Tour de France with expert guides on hand to lead groups.
However if a competitive ride is not your thing quite yet and development is at the forefront of your current ambitions then there are two other weeks available. The first of these from the 14th to 21st June precedes the Sportive week and could be ideal for those looking for training and expert help. As well as the Sportive there are also La Marmotte and l'Etape du Tour to train for. The other week on offer from the 28th to 5th July is. During these weeks guided rides to surrounding high altitude villages allow riders to improve their stamina and hill climbing technique.
VIP SKI's Altitude Lodge in Les Gets provides a great level of accommodation and service. A popular ski chalet the Altitude Lodge features a hot tub and sauna, ideal for after a full on day riding the mountain roads.
Trips can be arranged on a 4 night or 7 night basis with half board accommodation at the Altitude Lodge and cycle guiding. Prices start at £310 per person based on two sharing for 4 nights and £490 for seven nights. Entrance into the Morzine Sportive is €37. For more information visit vip-chalets.com.