Groot Constantia - Blending olde worlde charm with modern day passion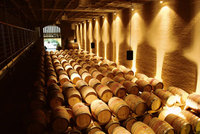 One truly has to experience Groot Constantia to feel Groot Constantia - it is about rich history, a beautiful setting, friendly people, memories to be made, fun to be had and, of course, wine to be savoured and enjoyed.
Groot Constantia is South Africa's oldest wine farm - in existence for 328 years this year. Wine has been produced on the estate without interruption since 1685 and in fact, Groot Constantia bottles, bottle shards and bottle seals dating from as far back as 1774 have been found in far corners of the world in some unusual circumstances.
Treasure hunters and archaeologists finding Groot Constantia bottles
One bottle was found at the bottom of the ocean in the archipelago outside Stockholm in the late 1940's by a diver; three bottles were discovered in the cellar of a castle near Belgium that date to the period 1760 - 1840; a bottle piece featuring the Constantia bottle seal was discovered on a beach in the Delaware Bay and identified by historians to be part of the cargo of the Severn - a ship that was stranded there in 1774; another find was a very crude example of the Constantia wine seal - evidently far older than all the other examples - which was unearthed in an excavation in Meiningen in Germany.
The nations wine estate
Commander Simon van der Stel of the Dutch East India Company (VOC) was originally granted the land on which Groot Constantia stands on 13 July 1685. It has changed hands many times over the centuries of course and now Groot Constantia is a National Monument and a living museum with the task of preserving the history and cultural legacy of the South African wine industry for the people of South Africa.
The current owners of the estate, the Groot Constantia Trust, a non-profit company, has ensured that Groot Constantia is beautifully maintained and operated to the highest standards - delivering a top-quality experience to visitors.
What's in a label - new wine label launched
It is in honour of Groot Constantia's rich history as the origin of the South African wine industry that the estate decided to resurrect and re-use an original, historic wine label, which prominently features a sketch of the Manor House at the top, and now an exact replica of this label appears on the Gouverneurs Reserve range of wines.
"Groot Constantia's main point of difference within the industry is the fact that the estate is the oldest in the country and it is for this reason that we chose to use an old label as our 'new' wine label," states Boela Gerber, Winemaker for Groot Constantia. "This special label not only honours the estates history but it also distinguishes the Reserve range of wines.
Groot Constantia is about so much more
"The estate boasts two top-notch restaurants, Jonkershuis and Simon's where visitors can eat after they have finished exploring the beautiful old manor house Iziko Museum and its surroundings," explains Jean Naudé, General Manager of Groot Constantia.
"Visitors can also enjoy a cellar tour and for those looking for something a little more sedate you can spend time relaxing in the shade of the old oak trees."
And of course there is the wine tasting!
Groot Constantia recently upgraded one of the tasting rooms and this revitalised space reflects how the estate blends the old with the new. Visitors can relax in this fresh, modern and light room whilst sipping on Groot Constantia wines that are made the old fashioned way - with attention to detail, to exacting standards, with pure ingredients that are harvested by hand and packaged in bottles labelled with the historical label.
At the recent Top 100 SA Wines 2013 awards held on 11 April, four Groot Constantia's wines achieved Top 100 status. These wines are the Chardonnay 2012, Grand Constance 2010, Shiraz 2010 and Gouverneurs reserve Red 2010.
"Taking into account the fact that entry levels are increasing, entry figures have increased by 15% from last year, and therefore becoming a Top 100 winner is getting tougher every year, we are extremely proud to have four wines chosen for the Top 100 list this year," says Groot Constantia winemaker, Boela Gerber.
This is the only wine farm that is a member of the Big Six tourist destinations in Cape Town (the other members include Table Mountain, the V&A Waterfront, Robben Island, Kirstenbosch and Cape Point) and it is easy to see why when you visit and spend time at this special National Monument.
Groot Constantia is always running special offers for children and seniors and anyone arriving at the estate on the red double-decker City Sightseeing Wine Tour bus, which is offered as a free extension of the Blue Mini Peninsula tour to anyone interested, automatically gets a R5 discount off the regular price of all tours and tastings.
Come and enjoy the Groot Constantia experience and tell your friends and twitter followers about it - #FeelGrootConstantia @GrootConstantia - and for more information visit grootconstantia.co.za.