South Africa, Bali and Australia offer best value for overseas weddings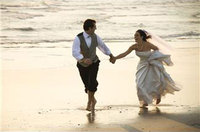 Peak wedding season may be coming to an end in the UK, but couples looking to get married this autumn may be wise to look to get hitched in Hawaii, tie the knot in Thailand or hear wedding bells in Bali.
New analysis from foreign exchange experts Currencies Direct reveals that the average overseas wedding now costs £7,000, including ceremony, photography, overseas reception and a honeymoon stay, thanks in part to the strong pound. This compares to the average £21,000 cost of a wedding in the UK.
And due to the strength of Sterling some of the world's most popular overseas wedding destinations are nearly a fifth better value than this time two years ago.
Of the most popular destinations for overseas weddings, South Africa – with the opportunity to get married on Table Mountain or even in a game reserve – offers the best value, with Sterling up 35% against the rand.
That effectively gives a £2,450 bonus on the average wedding bill compared to 2012 – almost enough to cover the bride and groom's flights or pay for a significant upgrade.
Just behind is the home of barefoot beach weddings, Bali, with Sterling up 28% against the Indonesian rupiah, giving a £1,960 'bonus' - again, more than enough for the cost of the couple getting there.
Although more modest increases can be enjoyed in Thailand (6%) and Mauritius (5%), couples seeking a ceremony in the sun Down Under would benefit from the pound being a whopping 18% stronger against the Aussie dollar than two years ago.
And even without a significant currency move, Thailand and Sri Lanka offer potential bargains for brides and grooms. Their currencies are second only to the Indonesian rupiah in their value against the pound, with flights, ceremony and seven-night honeymoon available for just £1,950 and £1,664, respectively.
Currencies Direct has the following advice for couples looking to marry abroad:
1. If you have a significant party of guests attending your wedding, you may get a better rate for your spending money if you agree to buy your currency together and in advance. A specialist exchange company will give you a better rate than your high street bank.
2. Get costs from your suppliers in the local currency and pay them in the local currency. This will give you a far better exchange rate than one set by the hotel or wedding venue on the ground.
3. If you're looking to spend big and have several suppliers to pay, it can be better value to set up a local account and transfer the money over in a single lump sum using a specialist foreign exchange broker. That way you'll get the best rate, minimise commission and fees, and avoid losing out on multiple transfers.
4. If you do need to make multiple overseas payments, make sure you do it online through a currency specialist – you'll generally avoid fees this way, and the exchange rate will be much better than your bank.
5. Unless you spontaneously elope, you're probably not going to get married for several months at least and potentially up to a year. Exchange rates can be volatile but there are ways to insulate yourselves. These include a Forward contract – a 'buy now, pay later' transaction, where you to lock in the current rate for a future purchase in the next 12 months – or a Limit order (an instruction to automatically purchase currency when a target exchange rate is reached).
Alistair Cotton, Currencies Direct corporate dealer, said: "Money can't buy love, whatever the currency, but you'll certainly get more romance for the rand or rupiah this year. Looking to save money is one reason many couples look to marry abroad and there are clearly some parts of the world where your money stretches further.
"Exchange rates are far from the most romantic subject. But look carefully and you could effectively bag a free flight or hotel upgrade compared to 2012 – something that Britons planning their wedding or honeymoon this year would be wise to consider."
Danny Wayne, from Perfect Weddings Abroad, said: "With the exchange rate how it is at the moment there has never been a better time to get married abroad and get the best from your budget.
"Luxury long-haul wedding locations are now within budget for more and more couples. We're finding that people are 'trading up' and using the favourable exchange rates to experience 5-star luxury, or treating themselves to added extras, such as romantic meals on the beach and spa treatments.
"Bali and South Africa are both amazing wedding locations, which are more affordable than ever before. There are beautiful hotel venues in Bali with glass chapels on the beachfront, while South Africa offers everything from safari weddings, to ceremonies in the winelands, to the beaches of Cape Town. Couples can even exchange their vows on top of the iconic Table Mountain."