Africa for families - Zambia, Mozambique & Kenya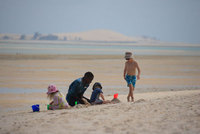 Africa has a lot to offer for all ages, with enormous scope for fun and imaginative family holidays. It's important to choose a place that actively welcomes children, rather than simply accepting them – for interested children, old enough to understand what they see, Africa offers wildlife, culture and activities to suit everyone. With so many varying requirements and needs, it takes a special destination to produce a seamless, unforgettable family-bonding experience where everyone is truly happy.
Zambia - Royal Zambezi Lodge
Located on the banks of the Zambezi River in a stunning bush setting, there are fifteen canvas tent suites complete with shady verandas and ensuite baths. The elegance of the decor and luxurious dimensions of the feather-pillowed bed will appeal to Mum and Dad, while the children will get a kick out of the novelty of sleeping in a tent amongst the sounds of bush.
There's a wide range of activities on offer, including game drives in an open 4x4, canoe trips down the river getting you up close to elephant and hippos and walking safaris with an expert guide. Fathers and sons might want to bond out on a boat hauling in some Tiger Fish, satisfying primeval hunter-gatherer instincts, whilst the girls enjoy some down time together and indulge in a treatment at the Bush Spa. Older children can learn all about bush lore and tracking animals, learn how to make fires with sticks and build their own bow. In the evenings, the family can gather around the Sausage Tree bar, miles from the interruptions of work and school and Facebook, and share some genuine quality time as the sun sets over the escarpment.
royalzambezilodge.com
Rates start from $390 per person per night
Mozambique - Azura Benguerra Island and Azura Quilalea Private Island
Children and teens at Azura will be spoilt for choice as to how to spend their time. There aren't the traditional kids clubs you find in larger hotels, but there's a host of activities they can participate in and many can be done without the guidance of parents – under the supervision of Azura's guides, dive instructors and spa therapists.
The focus is on the amazing pristine environment at both Azura properties – there's so much to experience and learn about.
Little ones as young as 4 can learn to snorkel under the careful guidance of the snorkelling instructors, whilst older children and teens will love to learn to scuba dive at the dedicated PADI 5 star dive centres at both properties.
At Azura Benguerra Island, in the south of Mozambique, families can stay in Villa Amizade or the Presidential Villa, both of which are self contained with large private pools and plenty of space in which to relax. Children can enjoy seeing marine life above and below the water, search for pansy shells on an island that appears at low tide, climb dunes, look for crocodiles, taste the island's fruits or play soccer with the local team. A visit to the local school built with donations to Azura's Rainbow Fund charity will be informative and interesting for all the family. The African Spa offers a range of children's treatments including face painting and pamper parties, and manicures and facials for teenagers. Budding young chefs can try their hand in the kitchen and bake delicious cookies for the rest of the family.
azura-retreats.com/benguerra/
Azura Quilalea Private Island is located in the north of Mozambique, within the pristine Quirimbas Archipelago marine sanctuary. Families will have the fantastic opportunity to see turtles lay their eggs or hatchlings take their first steps to the sea during nesting season. The house reef begs young explorers to don their masks and fins and explore the underwater world. For the very young, the soft white sand beaches are perfect for sandcastle building, and there are easy swimming conditions at the main beach. Older children may be interested in the giant baobabs, or learning about the community projects. Families can spend time together kayaking around the island and mangroves, go sailing on a traditional dhow, hop to neighbouring islands for long lazy picnics, or spend an evening learning about the stars.
azura-retreats.com/quilalea/
Rates at Azura Retreats start from $525 per person per night
Kenya - Naibor
In the heart of the Maasai Mara, Naibor is a luxury tented camp located only minutes away from the world famous wildebeest crossing site. The camp is hidden in woodland on the banks of the Talek River, a luxurious base from which to explore the famous Game Reserve.
Ideal for families, Little Naibor is located within the immediate vicinity of Naibor Camp, and is made up of two spacious suites each containing a double and twin bedded room with their own ensuite bathrooms, interconnected by a communal lounge and verandah area. This works well for families as the kids can be close to their parents under the same canvas, yet are in their own room.
A dedicated team of staff caters to your every need, and the dining area overlooks the river with complete privacy and spectacular views.
Families can partake in game drives in open top 4x4s, and are likely to spot lion, leopard, cheetah, elephant, buffalo, giraffe, gazelle, wildebeest and zebra amongst others. 'Out of Africa' style bush meals can be set up for the whole family in a variety of private locations, and sundowners are also a popular way to end the day. Families may enjoy a visit to nearby Maasai communities, where they can observe traditional dances and interact with these very traditional people.
naibor.com
Rates start from $450 per person per night
Senegal - Les Paletuviers
Les Paletuviers is a Belgian-owned resort located in the UNESCO World Heritage Site of the Sine Saloum National Park. It offers a simple yet stylish African hideaway, and a gateway into authentic, affordable West Africa. Families will enjoy the pool and restaurant surrounded by exotic birds and tropical flowers and there's a fantastic range of activities for all ages, with kids are well catered for. They can tour through Toubacouta village with a donkey and cart, visiting the local school, hospital and a local house to get an insight into local life. The village children are always ready to play games, dance and sing African music, and there is a regular football match organised for the village children and young guests of Les Paletuviers. Learning to speak Wolof and then visiting the local market to try out their new lingual skills is a popular activity, before returning to Les Paletuviers to cook up Senegalese dishes in the afternoon. The whole family can embark on trips by 4x4, foot and bicycle both locally and further afield, as well as boat excursions to tiny islands, through mangroves and to remote villages.
paletuviers.com
From €102 per person per night full board