Idyllic Ile de Ré - New boutique break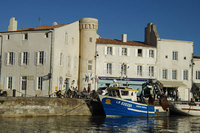 The enchanting Ile de Ré awaits with two historic properties that will whisk guests off their feet. New for 2013, the 'Idyllic Ile de Ré' break is a relaxing four day break experiencing two of the islands most beautiful hotels – the twenty bedroom Hotel de Toiras and the 9 bedroom Villa Clarisse. As part of the 'Idyllic Ile de Ré', guests will enjoy accommodation at these two boutique gems, a delicious evening meal at the gourmet restaurant La Table d'Olivia and unlimited vintage bike hire to explore this magical island.
The first two nights of Idyllic Ile de Ré will be enjoyed at Hotel de Toiras, a beautiful boutique hotel right on the harbour. The hotel harmoniously combines the traditions and history of L'Ile de Ré with the sheer comfort of an opulent and intimate hotel. Each of the twenty bedrooms and suites is imbued with a special atmosphere and a soul and history relating to an important figure in the region's history, including literary authors like Madame de Sévigne, painters like Chapelain-Midy and historic figures like Toiras, the hotel's namesake. The interiors reflect these figures themselves, their tastes, their work…right down to the smallest detail – special fabrics, paintings, reproductions, books and ornaments resulting in sumptuous surroundings.
The second two nights will be spent at Villa Clarisse, a delightful 18th century chateau and the beautiful sister property of Hotel de Toiras. With just nine bedrooms, the historical setting is complimented with the modern French elegance of the interior design – white washed walls, hand painted French furniture and pale fabrics. Each spacious bedroom features an original working fireplace, with views over the long green garden (complete with croquet set and heated swimming pool) so guests really can make the most of Idyllic Ile de Ré. Set on a quiet side street, yet still within minutes of the bustling harbour, Villa Clarisse is a heavenly hideaway perfect for a relaxing escape.
As part of the four night Idyllic Ile de Ré, guests will enjoy a three-course meal at La Table d'Olivia, Hotel de Toiras' restaurant; one of the best on the island, it serves delicious gourmet food, only offering locally sourced fresh produce. Meals can be enjoyed in the beautifully restored dining room or in the lush garden terrace of the property. Guests will delight in the best of the French breakfast here too, indulging in warm, fresh croissants and endless cups of steaming hot café.
During the Idyllic Ile de Ré, guests of both Hotel de Toiras and Villa Clarisse will enjoy unlimited bicycle hire with cycling being the island's most popular activity; there is over 100km of flat terrain to discover. Endless adventures can be undertaken whether it be to the oyster marshes or a variety of beautiful beaches nearby. Guests will have the opportunity to experience horse riding, sailing, oyster picking and gastro tours of town too - if they can bear to tear themselves away from the hotels that is….
The Idyllic Ile de Re includes two nights at L'Hotel de Toiras (hotel-de-toiras.com) and two nights at Villa Clarisse (villa-clarisse.fr). The Idyllic Ile de Re also includes a sumptuous dinner at La Table d'Olivia, continental breakfast as well as unlimited bike hire. Prices for this break start at £1690 based on two people sharing.