Luxury 'cultural discovery' cruise from Venice to Mantua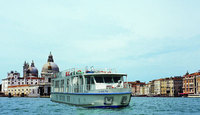 The variety of charming waterways between Venice and Mantua promises a unique and magical cruising experience and the itinerary aboard La Bella Vita includes fascinating excursions that offer a real insight into the many cultures - Roman, Etruscan, Istrian, Byzantine and of course Renaissance - that have influenced the arts, architecture and history of the region over many centuries.
This special voyage departing on Sunday, June 2 also gives the opportunity to enjoy the diverse landscapes and nature en route, from picturesque lagoon islands with their colourful houses, to wild beach dunes and pine woods with a variety of birdlife; from the charming Venetian port of Chioggia via the River Po and Bianco Canal to the captivating lakeside setting of elegant Mantua.
La Bella Vita is a stylish 20 passenger vessel that has been refitted to high standards to offer comfortable, fully air-conditioned accommodation. She has two upper deck junior suites and eight lower deck staterooms, all offering en suite facilities, and a bright, spacious dining room and bar area where delicious Italian specialities will be served. Louvred doors open to the side decks to give a perfect viewing platform, whilst above is a huge sun deck. La Bella Vita is the perfect vessel from which to immerse yourself in Italian Renaissance culture as you cruise the Venetian lagoon and the calm waters of the Po Valley en route to the elegant city of Mantua.
The reduced price of £1,890 per person includes:
6 nights accommodation aboard in an air-conditioned, en-suite cabin.
The services of an experienced Captain / Host, Chef, Housekeeper(s), Driver/Tour Guide.
All gourmet meals, fine wines and an all-day open bar
Daily excursions by chauffeured minibus to chateaux, vineyards, markets, etc
Return transfers to and from local meeting/drop off point.
For full details, visit gobarging.com.