Virtual working in the sun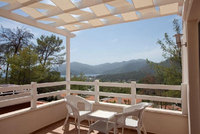 People in the UK are becoming more independent minded which is evident by the rising statistics of the self-employed, which has grown from 3.8 million in 2008 to 4.2 million people in 2012. But while many people are seeking and establishing a new level of independence, are they really making the most of it?
With over seven months of guaranteed sunshine, super-fast broadband and access to affordable admin staff, Gocek Hills villa breaks are becoming a popular choice for virtual workers. They offer a superb work/life balance for self-employed families at very affordable rates, particularly over the spring and autumn months. The latest telephone services even allow guests to take their work phone number with them - directly to the villa, for both incoming and outgoing calls.
Gocek Villa Holidays offers a collection of luxury villas that sleep 8 - 10, in the beautiful Turkish town of Gocek where the Mediterranean and Aegean Coast meet. It is only a 20 minute car journey from Dalaman International Airport and the Mediterranean climate makes Gocek a comfortable year round destination.
The villas are equipped with everything you need for a relaxing break or a long-term stay, with their own private pools and stunning views. To start your break with ease Gocek Villa Holidays offers a grocery shopping service; simply provide a list of items and they will be waiting for you when you arrive (just £10 delivery).
Gocek is the perfect haven for activity seekers and sailing enthusiasts, with quad biking, rafting, sailing and tandem paragliding all on offer. The area is best explored by bicycle, which are available to hire to explore Gocek and the surrounding area at your own pace (just £7 per day). In the evening you'll find a great variety of seafood restaurants and salsa nights which often ends with dancing in the street.
Guaranteed weather feels a million miles away but with direct flights to Dalaman from most UK airports, it should take no longer than 6½ hours from the moment you leave the front door, to stepping foot in your very own Gocek Hills villa. Here you will be greeted with 12 hours of daily sunshine (between April – September) along with the following optional luxuries:
Free unlimited wifi
Excellent babysitting/childcare – so you can take a day or night off and have time to relax, knowing your children are safely supervised
Newspapers/magazines – if you can't bear to be without your favourite newspaper or magazine, they will arrange delivery straight to your door, for just £3 per day (plus the cost of publication)
In-villa dining – for those nights when you just don't fancy going out but the sun has zapped all your cooking energy, Gocek Villa Holidays will take control. They will do the shopping, prepare your choice of fresh meals from the finest ingredients and deliver them hot to your villa. They can even set the table and clear up after your meal if you wish.
A 12 island boat trip to see all the paradise islands around Gocek
For shopping enthusiasts: jewellery, carpets and clothing are the specialities in this region, with plenty of shops nearby to cater for all.
For more information, visit gocekvillaholidays.com.