Alex Anderson is first again with the new Volvo FH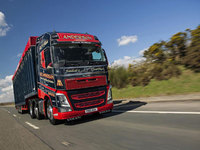 History, apparently never repeats itself, but historical situations do re-occur. That phrase definitely fits the arrival of the UK's first new Volvo FH, which was delivered to Boness-based sawdust and woodchip contractors, Alex Anderson in April.

Almost 20 years ago this West Lothian based business also took delivery of the UK's first 'classic' FH model at the 1993 Scottish IRTE truck show. That particular event formed the world début for Volvo's then ground-breaking new truck range.

Alex Anderson's latest premier prime mover is the first of a batch of 16 similar tractor units ordered for delivery this year. Sourced through a mixture of outright purchase and leasing, the 6x2 tractor units feature Volvo's D13C Euro-5 engines, producing 500hp and these are coupled to I-Shift automated gearboxes. Globetrotter XL cabs, leather seats, Xenon headlamps and Dura-Bright alloy wheels are all part of the new FH's comprehensive specification.

Alex Anderson's traditional Scottish livery is applied by Grangemouth-based painter, Scott King and finished off with vinyl graphics by John Coulter.

Operating across Scotland and accruing an annual mileage per vehicle of around 100,000kms, the new FHs were all specified with a full life repair and maintenance contract, which will be carried out at Volvo Truck and Bus Centre North & Scotland's Edinburgh premises.

Each truck is also equipped with Dynafleet, Volvo Trucks' online transport information system for improved profitability, which also includes the services of a locally based Fuel Watch manager.

A Volvo Trucks' customer since around 1975, Alex Anderson reports great support and back up from the entire team at the Edinburgh dealership. "We're well looked after by everyone at Volvo Trucks Edinburgh from the workshop and parts departments right through to the management team, which of course includes our key contact, dealer manager Stewart Lynes. Our fleet has been 100 per cent Volvo for almost 40 years now. The marque's reliable record and consistent customer service levels means we've never jumped about between truck-makers."

Ordered more than two years ago, the UK's premier new FH Series will, just like its classic FH predecessor, eventually join Alex Anderson's extensive fleet of classic commercials after its working life.

The firm's inaugural 1993 FH 4x2 tractor unit was restored to as-new condition after 950,000kms and today forms the centrepiece of the company's well-known collection of historic HGVs, which also includes other key Volvo Truck models such as the F86, F88, F7, F10 and FL10.