Hamburg: Around the World in 80 Gardens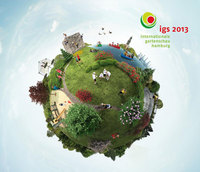 Hamburg is in the horticultural spotlight this year, when one of Germany's greenest cities hosts igs 2013, the "international garden show". Staged only once every 10 years, the igs is one of the world's largest and most prestigious horticultural exhibitions. This year's theme, "Around the World in 80 Gardens", is inspired, of course, by Jules Verne's novel "Around the world in 80 days".
Until October 13, 2013, the Wilhelmsburg island park on the south side of the city will turn into a fantasy of flowers, as well as a park vibrant with live entertainment, restaurants and even a farmer's market!
Spread across 250 acres, the show is divided into seven worlds, with seven wonders and 80 gorgeous gardens, displaying a rare mix of flowers and shrubs, exotic plants and spices. With their different plants and climates, these "worlds" have been created by the world's best and most inventive landscape artists. Each is themed, so that visitors can experience the planet's contrasting climatic, cultural and vegetation zones.
Hamburg is one of the world's busiest and oldest ports, so the "World of Ports" plays a special role, themed on the romance of travel. The 18 gardens in the "World of Water" emphasise the importance of conserving water. In the "World of Cultural Diversity", 10 gardens reflect the way gardens are planted and regarded around the globe, just as the "World of Religions" provides space for contemplation and peace.
But gardens are also places to have fun, so the 11 gardens in the "World of Movement" provide different activities throughout the six months. The most fascinating world? That could well be the "World of Nature", where the 5 gardens are planted with interactive, innovative animated plants.
But the idea is not just to dazzle. With its creative landscape architecture and lively garden ideas, the show is the perfect place to catch up on what's new and unique in garden design. That's what makes igs 2013 this year's "must visit" for everyone that loves gardens.
Totally accessible and barrier-free, with a special 2-mile-long monorail for a bird's eye view of the grounds, the show does much more than seduce the eye. On an open air stage, regular concerts please the ear, while the restaurant in the former water works pleases the palate. Getting to and from the igs takes just 8 minutes with the S-bahn, the suburban railway from Hamburg's main station. A slower but much prettier route is by boat, gliding along the Elbe River, past Hamburg's unique riverside landscape.
Prices: Day tickets cost 21 €; after 6pm, 9 €.
Travel:
Great connections are available from the United Kingdom to the Hamburg Airport. easyJet and bmi offer daily flights to Hamburg from airports in and around London, Manchester, Birmingham, Edinburgh, and Bristol.
Packages:
Hamburg Tourismus (hamburg-tourism.de/en) offers a 2-night stay including b&b, igs ticket and Hamburg CARD from €219. hamburg-travel.com/search-booking/packages
More Information:
Here you can find more information about the igs 2013, Hamburg tips and downloadable information:
igs 2013: igs-hamburg.de/en
Hamburg Tourism Website: hamburg-tourism.de/en
Hamburg CARD - discover more - pay less: hamburg-travel.com/card