A different nail enamel for sensitive skins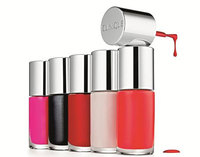 Six years in the making, Clinique introduces a pioneering innovation to the nail enamel industry: formulated to minimise skin sensitivity. It is dermatologist tested, ophthalmologist tested and appropriate for sensitive skins and sensitive eyes.

The facts
Did you know a person touches their eyes on average 200 times a day?
With all that contact with hands and fingers throughout the day, there are many culprits that can irritate the eyes. Did you know that nail enamel can cause irritation and even contact dermatitis on the susceptibly thin skin around the eye? Amongst the dermotological community, nail enamel is also considered a significant allergen source for periorbital dermatitis—a facial rash that develops around the upper and lower eyelids. People who suffer from these conditions often do not realise the connection between touching and rubbing the eye area and fresh manicures.
The solution
As an allergy tested and 100% fragrance free cosmetic brand, Clinique scientists challenged themselves to develop a nail enamel formulated to minimise unwanted reactions to the nails and skin and eyes.
The formula is beautifully balanced to maintain a high shine and streak free application. It is quick drying and available in a wide colour variety, including a few of Clinique's iconic hues and seasonal, trend setting shades. The high gloss finish is chip resistant for seven days of wear when used in tandem with A Different Nail Enamel Base and Top Coat for Sensitive Skins.
Available in 12 permanent shades and 9 limited edition 'must haves' for Summer 2013, RRP £12.00 / €16.00.
Visit clinique.co.uk/nailenamel for expert nail tips and to purchase the new collection and view expert nail tutorials at youtube.com/CliniqueUK.
Free delivery with the purchase of an 2 Nail Enamels* Code: NAILS