Taylor Wimpey and RSPB join forces to promote garden wildlife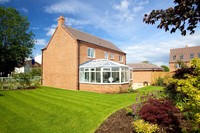 Taylor Wimpey is teaming up with the Royal Society for the Protection of Birds (RSPB) to provide a welcoming habitat for birds and butterflies at its new homes developments across the Midlands.
The partnership will see the leading homebuilder take steps to create the ideal conditions birds and butterflies need to flourish in the gardens of all its new properties.
All new homes built by Taylor Wimpey Midlands now come with a free filled bird feeder to give residents the opportunity to attract local species to their gardens.
In addition, future landscaping schemes at Taylor Wimpey Midlands developments will be designed to feature wildlife-friendly native plants and flowers, as the developer works with the RSPB to promote population growth for birds and butterflies in urban areas.
Anne Wallace, Regional Sales and Marketing Director for Taylor Wimpey, says: "The prolonged cold weather experienced through the last few winters has been particularly harsh for small birds, with the extreme conditions decimating their food supplies and leaving many of them at risk of starvation.
"Back gardens are often the best place for birds to spend winter because they can provide both shelter and a decent supply of food. To help birds out through the long cold spells, we will install bird feeders in the gardens of all our new homes.
"Similarly, there has been a decline in numbers of many native butterflies, leaving several species on the brink. Our partnership with the RSPB will see us work to create green spaces filled with nectar-rich plants at our developments to encourage butterflies to visit and breed."
Small garden birds have endured a turbulent few years in Britain. Following the coldest winter for three decades in 2009-10, sightings of the goldcrest, coal tit and long-tailed tit were dramatically down. But favourable breeding conditions in the following two springs saw many bird types bounce back.
However, several breeds are subject to a long-term downward slide in urban populations, including the once-prevalent starling, house sparrow and song thrush.
Meanwhile, the Big Butterfly Count 2012 discovered that last summer's wet weather had a devastating effect on both common and rare species across the country. A total of 15 out of 21 butterflies and day-flying moth varieties suffered year-on-year population declines.
In one of the worst ever recorded years, the study found that even the normally abundant red admiral experienced a 72% drop in numbers.
These latest findings come on the back of a 2011 survey by the Butterfly Conservation and Centre for Ecology and Hydrology, which published data showing that 72% of all butterfly species have declined in numbers over the last decade.
Taylor Wimpey currently has a superb selection of apartments and houses for sale at developments across the region. To find out more, home-hunters should visit taylorwimpey.co.uk/midlands.