Liverpool-based maintenance company awarded project at West Tower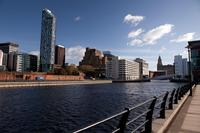 Liverpool-based property maintenance provider D.E. Gregson & Son has been appointed for a refurbishment project at West Tower and is currently working on the building's 106 apartments and communal areas.
D.E. Gregson & Son, which has 42 years' experience of maintaining and managing properties in Liverpool, was contracted in October by the building's owner, Delph Property Group, to make-over the development's communal areas and apartments to a high quality standard.
This is the largest refurbishment ever for the family business and the scale of the work has allowed it recruit six new members of staff.
Martin Gregson, from D.E. Gregson & Son, said: "Securing the project is a great result for our company and is a testament to the high quality of our work in Liverpool.
"It has also been instrumental to the growth of our business and has helped bolster our reputation in Liverpool."
Richard Forman, Head of Sales and Marketing for Delph said: "As West Tower is our first project in the north of England we were determined to involve a local builder in its development.
"Gregson & Son is well-placed to tackle the project head-on as they have prior experience working there, which meant that we have been able to form a partnership to do the building justice."