Yoga cruise with Sail Croatia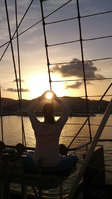 Small ship specialist Sail Croatia has announced a brand new partnership with Yoga Ishta Style Retreats, who will be operating an exclusive yoga cruise this August. For those looking to relax even more while sailing the azure waters of Croatia's archipelago, what better way to unwind than with morning and late afternoon yoga classes with a respected and qualified instructor?
Yoga Ishta Style Retreats and Raphaella Rose will be running yoga classes on Sail Croatia's Premier Explorer ship departing on 24 August from Split, heading to Dubrovnik. The Explorer Cruises areperfect for young professionals, couples and singles alike and the classes are suitable for everyone; from beginners to experienced Yogis. The classes will be conducted twice a day when the ship is cruising (early morning and late afternoon) and will consist of an energetic wake-up class with basic meditation, followed by a late afternoon stretching class that is more relaxed.
Raphaella's speciality is Ishta Style Yoga, a highly personalised form of yoga that embraces Hatha postures. Yogis will be encouraged to practice postures that feel right for them and will be given posture modifications and variations with the aim to rebalance the mental and physical state. Class levels will be determined and individualised to fit participating students' needs and the dynamic of the group. Students will be able to get personalised attention and ask questions throughout.
The seven-day one-way Explorer cruise departing on 24 August starts from £634 per person (based on two sharing) and includes accommodation in an air-conditioned, en suite cabin as well as daily healthy breakfasts and lunches on board. Check out sail-croatia.com/sail-croatia-specials/3-newsflash/1520-yoga-cruise to book. The week's yoga instruction costs £150 per person and must be booked direct with Yoga Ishta Style Retreats.
For further details and bookings, visit yogaishtastyle.com.