Organic skincare down under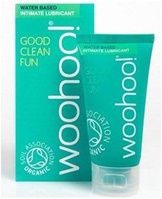 We're not talking about a new moisturiser from Australia, rather something a little more intimate. As a nation we've become switched on to organic skincare according to the Soil Association (the UK's leading organic certification body). In their 2012 market report, despite the general economic downturn, they highlighted that organic health and beauty sales rose by nearly 9% as we continue to realise the benefits for both our bodies and the environment of going organic.
However despite understanding that we should be using fewer chemicals on our skin in general we're still lagging behind when it comes to our most intimate and sensitive skin areas.
One of the main reasons as a nation we've taken to organic skincare is the realisation that our skin absorbs up to 60% of the chemicals we put on it, whether that be in moisturisers, make up or deodorants.
There is however an area of our body that absorbs even more than 60% of the chemicals we put on it. The walls of the vagina are covered in a mucus membrane that makes absorption much easier and they don't benefit from the same protection as normal skin meaning chemicals can be taken up much more readily.
Woohoo realised this and set about creating an organic, water based, intimate lube that meant we could enjoy all the benefits and pleasure of using a lubricant without worrying about what we might be absorbing into our bodies at the same time.
The results speak for themselves and woohoo! is the first organic lubricant to launch in a mainstream high street chain, being available in Boots stores (and on Boots.com) nationwide. Furthermore it seems using an organic lubricant is just as much fun as a non organic one as 100% of woohoo! users experienced 'satisfaction' when using the organic lube in an independent test.
woohoo! is now available nationwide and costs just £6.99 for 50ml
woohoo! promote safe sex and the lubricant can be used with condoms.
For more details, visit woohoolube.co.uk.