Dirty Dancing to make triumphant return to West End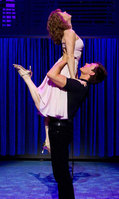 Karl Sydow & Amber Jacobsen, the producers of the global phenomenon Dirty Dancing – The Classic Story on Stage, have announced that the record-breaking hit show will return to London's West End this summer, opening at the Piccadilly Theatre on Saturday 13 July 2013. This follows a hugely successful multi-record breaking nationwide tour across the UK and Ireland, which has been seen by over one million people since it launched in 2011.
Dirty Dancing opened at the Aldwych Theatre in 2006 with a record- breaking advance of £15 million - making it the fastest ever selling show in West End theatre history. The production became the longest running show in the history of the famous Aldwych Theatre and played to over 2 million people during its triumphant 5 year run. A hit show all around the world, Dirty Dancing has opened in Australia, New Zealand, Germany, the Netherlands, Sweden and South Africa, consistently breaking box office records. The current national tour has also smashed sales records all around the country and, due to overwhelming demand, a new UK tour will launch in March 2014.
Karl Sydow said: " We're delighted to bring the much-loved and iconic Dirty Dancing back to London in an all new exciting production that has thrilled audiences around the country. We look forward to welcoming the many fans of Dirty Dancing to the Piccadilly Theatre this summer."
Tickets for Dirty Dancing at the Piccadilly Theatre are available from dirtydancingonstage.co.uk.