Budding young playwright sees first play performed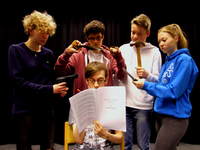 A drama student at Altrincham Creative Theatre School in South Manchester has penned his first play, 'Wine on the Rug', aged just 17, and is soon to see it performed by the award-winning theatre group. The inaugural public performances will be on 21st and 22nd March at North Cestrian School.
Christopher Bennett, from Timperley, was inspired to write the play as a result of the difficulty in finding scripts with enough male and female parts for the group. Tutor and director John Banks had set the example with his own scripts which had gone on to win acclaim at the regional theatre festivals.
Christopher has been a student with the theatre school, known as ACTS, for five years and chose the murder mystery genre which had proved popular with the group previously. He explains: "We've described it as comedy drama, as I wanted to take a light-hearted approach to the traditional murder mystery style, so that it's fun as well as suspenseful."
The play is packed full of all the favourite murder mystery elements and is set in a manor house where the wealthy owner, family members and staff all fall under suspicion when one of the guests is murdered and a police investigation ensues.
Founder and director of Altrincham Creative Theatre School, Valerie Harris said: "We're very proud of Christopher. The idea to write an original script was his own; he committed to it wholeheartedly and has done an incredible job. ACTS aims to encourage young people to appreciate theatre – not only acting, but all the different aspects – and this is a great testament of the school's ethos.
"We ensured Christopher was able to input into the casting too, as he'd had some specific actors in mind for certain roles, so we hope that the final performance will be true to his vision."
Christopher added: "Sometimes in rehearsals the cast have made suggestions and improvements, so there's been some collaboration too. I love seeing my fellow actors interpreting the words and watching what they bring to the script. Throughout the process of writing the play, my fellow students at ACTS were really patient and supportive. It's fantastic to see them getting enjoyment from it, and I hope the audience will feel that too."
Christopher will also perform in the play, together with 15 fellow members of ACTS.
'Wine on the Rug' will be performed on Tuesday 21st and Wednesday 22nd March. For tickets, email: info[at]acts4u.org.uk or phone 0161 928 2277. Tickets cost £5.00, concessions £3.00, with group discounts available. Performance starts at 7.30pm at North Cestrian School, Dunham Road, Altrincham, WA14 4AJ.
The junior section of the theatre group, known as ACT I, for those aged 10 to 14 years, will also perform at North Cestrian School with 'The Play Will Go On?', a comedy by John Banks, on Thursday 23rd and Friday 24th March. Ticket information as above.