Cinders returns to Cadbury House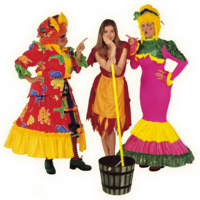 One of the most popular events of the year will be making a welcome return to Congresbury when DoubleTree by Hilton, Cadbury House hosts its annual Pantomime.
The award-winning venue will be filled with magic, fairytale and fun as Cinderella is performed by professional entertainers on Sunday 30 December.
All the old favourites will be there including Cinderella, Prince Charming and the horrible Step-Sisters for a two-hour show suitable for children of all ages.
Organised by the venue's health club, this year's show will take place in the hotel's newly refurbished Great Room at 2pm-4pm.
Jason Eaton, general manager at theclub, said: "The show is one of the highlights of a packed Christmas and New Year programme – especially for the children who love meeting the characters and getting involved.
"Pantomime is so much fun for all the family and is a great thing to do together over the holidays and following the previous years' success we're really looking forward to this performance.
"The great thing about our Pantomime is that it is a lot more intimate than many shows you can see in the larger theatres meaning the kids can really get up close and personal with their favourite characters. The lighting and music is fantastic and it also works out much more affordable for a whole family.
"The show will be full of magical scenes, modern songs and spectacular costumes. It has been specially written to entertain children and will be put on by a professional cast and crew. With loads of interaction we expect lots of shouting, cheering and booing – and that's just the parents!
"After the show families can take advantage of our kids eat free offer in thelounge."
Tickets are available from Cadbury House at £6 for adults members and £4.50 for children members aged 3-16. Tickets for non-members are £7 for adults and £5.50 for children with all children under three going free.
For further information on the club visit theclubandspabristol.co.uk.