Toddler-tastic new attractions for the Legoland Windsor Resort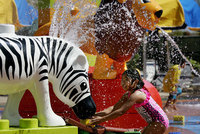 A pre-school paradise of imaginative fun and play awaits young visitors to the Legoland Windsor Resort from 18 May 2013, with the opening of a completely new themed land Duplo Valley; and a brick by brick restoration of firm family favourite Fairy Tale Brook.
Duplo Valley
This exciting new water play area brings to life the colourful pre-school building toy range – Lego Duplo with its popular characters, animals and vehicles and features a mix of toddler friendly rides, creative wet play areas and spectacular water features.
Duplo Splash Safari
The Duplo Splash Safari is the ultimate wet play environment for little ones featuring a menagerie of Duplo animals - from lions and giraffes, to zebras and elephants, penguins and polar bears. Designed with under fives in mind, children can splash and play in complete safety as their favourite Duplo animal friends squirt out fountains of water showering anyone in their paths. This area is for children only with convenient viewing areas for parents to observe the fun from a dry distance!
Duplo Drench Towers
There's plenty of wet fun for older members of the family too up at Duplo Drench Towers. Situated high at the top of the Valley Duplo Drench Towers is the largest water play structure in the UK especially designed for maximum soaking. Older kids will love dodging the massive tipping brick poised on top of a 10m tower ready to splash its contents at regular intervals. Watch out those below – with 1200 litres of water spilling every tip of the brick anyone beneath is guaranteed to get very, very wet. And there are five different sized splashtastic water slides to whizz down. From an awesome high twisted tube slide to a smaller two lane play slide there's a River Rapid to suit the whole family. Drench Towers is aimed at older children who must reach the minimum 1.1m height restriction to take part.
Brickville and the Duplo Puppet Theatre
There's also plenty of dry fun in Brickville where the landscape is designed for exploring and imaginative play. Children can climb around a village full of bright Duplo buildings fitted with climbing frames and slides. From the Caveman's House to the Town Garage, there's plenty of surprises to discover and lots of appealing Duplo characters to meet, including curious dinosaurs and colourful clowns. And when small feet are tired it's time to climb aboard the Duplo train for a ride around town. Or hop on board a helicopter at the Duplo Valley Airport for a bird's eye view across the whole area.
And no visit to Duplo Valley would be complete without a trip to the Duplo Puppet Theatre with family friendly shows happening throughout the day.
Fairy Tale Brook
Just at the bottom of the New Duplo Valley there's another toddler-tastic treat in store for families, with the NEW improved and lovingly restored Fairy Tale Brook ride. One of the Resort's original and best loved attractions, with around 5 million individual LEGO bricks portray scenes from some of the world's best loved fables. This gentle boat journey takes guests through a fairy tale landscape that NOW includes Cinderella, Snow White and Goldilocks. Cinderella's rotating animated figure shows the magical character transform from fireside Cinders to fairy tale Princess Cinderella and the scene also depicts her Fairy Godmother, enchanted carriage and a special LEGO glass slipper made from 250 transparent bricks.
Also brand new are Goldilocks and The Three Bears in the bear's cottage complete with Goldilocks asleep in Little Bears bed. And no fairy tale collection would be complete without Snow White and of course her Seven Dwarves. Also featured are Sleeping Beauty and Prince Charming, The Three Little Pigs and Little Red Riding Hood.

And a resort full of family fun
With over 55 rides and attractions including NEW for 2012 the LEGO Legends of Chima 4D Movie Experience, the world famous Legoland driving school, LEGO STAR WARS ™ Miniland Model Display with NEW Gallery experience, LEGO Legends of Chima 4D Movie Xperience and the world's first submerged LEGO submarine ride - Atlantis Submarine Voyage – AND an amazing 150 room themed Hotel - it is the ultimate family friendly Resort.
The Legoland Windsor Resort caters perfectly for the under fives, with colourful nappy changing areas, buggies for hire, swim nappies for babies plus swimwear for kids of all ages, stand-in drying machines for use post-splash and a range of child-friendly menus to enjoy at restaurants throughout the park and in the Hotel.
Plus you can extend your stay with a night (or two) at the unique Legoland Hotel, situated conveniently right on the edge of the Park. The 150-roomed hotel has three types of themed bedroom, Pirate, Kingdom and Adventure, a spectacular central play area and plenty of LEGO-tastic surprises to discover. Prices start at £247 (off peak) including a family themed room sleeping 2 adults and 3 children, breakfast at The Bricks Family Restaurant and two days on park. Park only tickets are from £34.20 for adults and £27.45 for children when booking in advance online. Opening times for the park vary over the period, for more information and booking please visit legoland.co.uk.