Seasonal summer festivities in Val d'Isere, France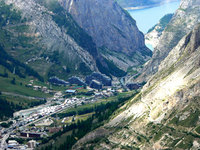 For those who only know Val d'Isere as a world class skiing resort, think again! From sporting events to cultural festivals; Val d'Isere is host to an array of exciting activities and experiences this summer.
Iserane: July 7th 2013
This energetic two stage cycling tour is open to both men and women of all ages. Anyone who feels like it can take part. On Sunday 7th July from 8:30 am to 1pm, cyclists will begin from Val d'Isere (1850m) or from Bonneval sur Arc (1850m), heading to the stunning Iseran mountain pass (2770m), the highest mountain pass in Europe. The road is reserved exclusively for cyclists for the entire morning. The programme includes a recreational ride on a 60 kilometre circuit with a vertical climb of 924 metres.
What's more, there's the possibility to ride 60km if riding from Val d'Isere or from Bonneval over the Iseran Pass and back, although many people ride around 32km. There's also the opportunity to borrow (free of charge) an electric bike, rendering your bike much easier.
Tarentaise Ice Scramble "3e Ice Trail Tarentaise": July 13th - 14th 2013
Participate in the highest scramble race in Europe, along the pathways of the Espace Killy. The scramble offers two courses: the Tarentaise Ice Scramble, 65km with a testing 5000m gradient, boasts an exclusive high altitude route. Altispeed is a 32km scramble with a 2500m gradient, or try Outing - a 13km scramble with a 1400m gradient. What's more, there's even a mini-scramble for children. We're expecting some of the world's best athletes for this event, such as world champions Kilian Jornet (Spain) and Emelie Forsberg (Sweden).
Environment Awareness Day "Journée de l'environnement": July 21st 2013
Reduce your carbon footprint and help to conserve the beauty of the Alps by taking part in waste collecting on the slopes of the Espace Killy. Valuable work is rewarded with a traditional hearty, alpine lunch, and you can also enjoy an educational afternoon. The highly reputable Ecomove group have organised this day for six years. It is now an entire day based on the theme of the environment.
CIMES de Val d'Isere: July 22nd - August 4th 2013
Val d'Isere metamorphoses into an international centre of excellence for music with the participation of talented classical musicians from every corner of the globe. The public may join in a number of master classes, enjoy the classic and jazz music concerts and the free entertainments. Music to our ears!
Fetes in Val d'Isere all summer long:
July 17th , 24th, 27th &28th 2013
It's celebration time all summer long in Val d'Isere hamlets.
Fornet fete - July 17th: Don't miss the Fornet Fete on July 17th which is without a doubt the most traditional summer fete of all with its traditional wooden games from yesteryear, accordion concerts and country style aperitif.
Daille mini-Olympic Games: July 24th 2013
Enjoy the hotly anticipated annual Daille mini Olympic games, and witness all the bravest sportsmen in the village participate. It's a great day of sport, fun and conviviality, providing the perfect family day out.
Vieux Val fete: July 27th and 28th 2013
On July 27th and 28th it's the Vieux Val quarter's turn to come to life with a parade of floats organised by the "Pics a Bouic" association, plus a summer ball and games.
Celebrate the 10th anniversary! Enjoy a 24 hour fete, from the summer ball on Saturday evening to the mountain guides' climbing of the pillars on Sunday afternoon, games, as well as the traditional and unmissable parade of floats organised by the "Pics a Bouic" association.
Don't miss the balls on July 13th and August 15th.
Foire Savoyarde "L'Avaline": August 3rd and 4th 2013
This traditional summer fair unites a number of craftsmen and farmers from the Savoy and Aosta regions for a grand traditional fair. Delight the taste buds and sample local Alpine produce ranging from cheeses to cured meats. Marvel at the period clothing, jewellery and sculptures, and witness the captivatingly skilled craftsmen at work in a festive atmosphere.
Haute Route: Cyclotourism Run: 19th- 20th August 2013
Val d'Isere is delighted to welcome the third edition of the famed Haute Route, a tourism bicycle race, for which Val d'Isere will be the second of the seven timed stages of the competition this summer. Starting from Geneva and heading all the way to Nice for the finish line, the race will traverse the legendary Route des Alpes for 866 kilometres.
Mountain Bike Enduro series, nations' trophy ~ International Mountain bike competition: August 24th - 25th 2013
Enduro is the brand new discipline of mountain biking, requiring the ability to descend steep mountain paths whilst also needing the endurance to climb demanding hills at the same time. For a whole weekend, Val d'Isere will be hosting the French cup and international competitions. Expect some of the best international mountain bikers and soak up the frantic rhythm and energy!
Programme:
Friday 23rd August: Foot reconnaissance of the race / Withdrawal of the bib number and technical checks
Saturday 24th August: 08:30 am - 5 pm: 5 to 6 runs on 2 or 3 specials. 6 pm : Podium of the day
Sunday 25th August: 08:30 am - 2 pm: 3 to 4 runs on a special. 2:30 pm: Mass start Nations Enduro. 3:30pm: Podium
Val d'Isere are also offering a selection of exclusive new summer packages:
Summer Free Gift: This is an exclusive pass to ensure you enjoy every moment of your stay, with many free offers and discounts on a great selection of activities.
"Grand Parc" Package: This package offers 7 nights in a 2* hotel on B&B based on a family of 4, with free accommodation for children under the age of 12 sharing the same room as the parents. 6 afternoons of activities offered at "Club des Aiglons". Prices from €322 per person.
Montagne: Enjoy 3 mountain activities for €70 (the price of one activity!).
For more information on what other events and activities available, visit valdisere.com.