Ryanair launches new partnership with Looking4Parking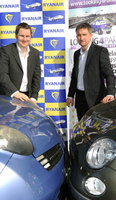 Ryanair has launched a new partnership with Looking4Parking, the UK's leading and fastest-growing car parking provider, offering low cost parking at 9 of Ryanair's UK airports.

Ryanair passengers travelling from Birmingham, Bristol, East Midlands, Edinburgh, Leeds Bradford, London Gatwick, London Luton, London Stansted and Manchester can now book both 'meet and greet' and 'park and ride' parking facilities on the Ryanair.com website and enjoy significant savings over standard airport parking.

Part of the Travel Parking Group, one of the biggest providers of meet and greet parking at UK airports, Looking4Parking's partnership with Ryanair will ensure Ryanair passengers enjoy the perfect start to their holidays or business trip.

Ryanair's Robin Kiely said: "Ryanair passengers already enjoy the lowest airfares in Europe and they can now book low cost parking at nine of our UK airports, offering even greater savings. We're pleased to announce a new partnership with Looking4Parking as we extend our range of money-saving ancillary services and products to our 80m passengers."
Looking4Parking's Martin Mansell said: "As the UK's fastest growing car parking provider, we're delighted to be working in partnership with Ryanair. With our 'meet and greet' and 'park and ride' services, Looking4Parking offers travellers significant savings whilst guaranteeing a stress free start to their holiday or business trip. We look forward to showcasing the benefits of our services to Ryanair customers across nine UK airports."