It's out with the hydrangeas and in with the hot tubs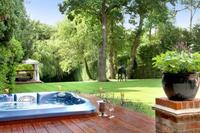 With the RHS Chelsea Flower Show just around the corner (May 21st – 25th) and the long awaited spring sunshine peeking through, the nation is getting all green fingered.

According to the latest research from Lloyds TSB Insurance the average UK garden is now worth £1,928 but long gone are the days of a perfectly manicured lawn complete with Wimbledon worthy stripes surrounded by immaculate flowerbeds bursting to the brim with tulips, roses and hydrangeas. Today more and more homeowners are investing in outdoor furniture and decorations in a bid to add a touch of luxury to their gardens.

British homeowners have spent on average £894 on items such as this in the last 12 months alone with barbecues accounting for 29% of purchases, trampolines 22%, swings / slides / see-saws 19%, hot tubs 10%, summer houses 8% and patio heaters 7%.

As James Wyatt, Partner of award-winning estate agency Barton Wyatt located in the heart of leafy Surrey, comments, "In the current economic climate where many cannot afford to move house, it's no surprise that homeowners are staying put and spending any money available on making their outside spaces more enjoyable.

"85% of households in the UK have some form of outdoor space around their property which should be considered as an extension of the home. Even a small area of lawn, some potted plants, a veggie patch or outdoor dining set can really add a new dimension to a property, providing a leisure space as well as adding extra value."
On the Wentworth Estate in Virginia Water, only a short distance from one of Britain's finest ornamental gardens, The Savill Garden, homeowners pride themselves on creating the perfect outdoor space for both friends and family to enjoy.
At Pine Acre for example, a 9,000 sq ft 5 bedroom luxury family home available for £4,650,000, there is a sizeable decked terrace with covered barbecue area and inbuilt heaters perfect for outdoor entertaining not to mention stocked flowerbeds, immaculate lawn and slate water feature.
Also available on the prestigious Wentworth Estate is Bourne House, a superb 5 bedroom property affording a long south facing garden with full width sun terrace which backs onto woods as well as a hot tub and even a horse sculpture in the grounds!

Down the road in neighbouring Sunningdale, Berkshire lies Queenswood, a 6 bedroom home also available at £4,650,000. The gardens to the rear afford a stone paved terrace as well as standalone heated swimming pool area and pump house perfect for family fun in the sun.
For more information on the stunning 21st century English country gardens mentioned above, visit bartonwyatt.co.uk.