Captain Jack washes up at Wookey Hole Caves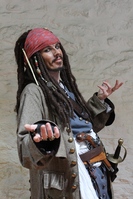 A very special visitor is expected to sail into Somerset this Whitsun holiday on a search for some lost treasure rumoured to be hidden in the depths of Wookey Hole Caves.
Captain Jack Sparrow, who has been sailing the Caribbean in recent years, will be at the popular attraction from Saturday 25 May to Sunday 2 June searching for treasure and catching up with his old friend the Witch of Wookey.
Wookey Hole Caves director Daniel Medley said: "Ahoy Me Hearties! We're very excited and also a little bit nervous to know that Captain Jack Sparrow will be visiting soon! He is a man of legend and known as the greatest Pirate of all time so we're hoping he behaves himself and stays away from the Rum!
"Captain Jack seems to think there might be some hidden treasure in the caves – rumour has it he gave some to the
Wookey Witch to hide many moons ago!
"Children are being invited to join in the treasure hunt with their very own map which could lead to free tickets to come back and see us again.
"As the whole week will have a pirate theme we'd love to see as many people as possible dressing as pirates to make Captain Jack feel at home or at sea as the case may be!"
As well as an appearance from Captain Jack, visitors to Wookey Hole Caves on the Whitsun holiday will receive free entry to the Pirate Island Adventure Golf which usually costs £12 for a family and will be treated to a special 'Pirate Magic' Circus Show performed by the circus students.
A cut-throat 20% discount will also be given to those who book tickets online.
Daniel continued: "Whitsun is one of our most popular times of year as the weather is usually good enough for the outdoor activities we offer while families can also enjoy the many indoor attractions including the mirror maze, penny arcade, pirate play area, paper mill and of course the caves.
"We're getting everything shipshape now and we're looking forward to welcoming visitors soon."
Wookey Hole Caves is one of the best-loved attractions in the West. With over 20 activities under one admission price, families from across the UK flock to the site annually.
With a dedicated hotel now onsite families can stay longer and enjoy the Somerset surroundings.
For more information or to book your Whitsun break, visit wookey.co.uk.