Bringing Baltic fashion to the UK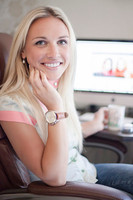 A Bristol-based entrepreneur is bringing previously hidden fashion gems from the Baltic States to the UK for the first time.
A new online fashion store called Madame Kuku has been launched to showcase the best designers of chic modern clothing in the Baltic States.
Madame Kuku brings together top boutique brands from Latvia, Lithuania and Estonia and sells an eclectic mix of exclusive designs. The website is the first of its kind to sell Baltic womenswear, menswear, childrenswear, accessories and beauty products to the UK market.
The brainchild of 28-year-old Baiba More originally from Latvia, but who has lived in Clifton for the last four years and recently moved to Lower Failand, Madame KuKu prides itself on the exclusive handmade garments on offer, many of which can be specifically made to order.
Baiba said: "After moving to England I found it very hard to get hold of some of the clothes and accessories which were popular back home in the Baltics. Many of my friends here would compliment me on the things I was wearing so I realised there was a market in the UK for Baltic fashion designers which, for the most part, hadn't been explored.
"The creativity and attention to detail of Baltic designers is second to none so I really wanted to do something to promote this niche market to a wider audience.
"Nowadays people have so little time on their hands to shop so an online store where all the best designers are in one place is great and a great platform for fashion which is perhaps a little more unique than anything else on offer – you certainly won't bump into anyone wearing the same thing at a party!"
Baiba goes on to explain the inspiration behind the name Madame Kuku: "Every one of us is a bit of a Madame when it comes to choosing our own style identity, but there is also the part of us which likes to go a little bit crazy when we go shopping – Madame Kuku sums up this idea."
Baiba is from a small Latvian town called Liepaja, on the Baltic coast. After moving to the capital Riga to study business management, Baiba moved to Dubai before finally settling in Bristol with her husband a GP who practises in North Somerset.
Along with her Latvian business partner Liene Gavrilova, a prominent fashion designer who also runs her own advertisement company in Riga, Baiba has recruited some of the best known and upcoming designers from the Baltics including Karaliene, Freak Factory, Peony, Varkki and BeCarousell.
Selling everything from dresses, handbags and lingerie to men's shirts and skincare ranges, Madame Kuku is a one-stop shop for those looking to widen their fashion horizons and for Europeans currently living in the UK.
Describing Baltic fashion Baiba said: "We sell very elegant and sophisticated clothes but at the same time each piece has something a little bit exciting about it. Baltic design is very recognisable and is considered chic and classy. Currently Baltic fashion is huge in Paris and I can see it really making its mark in the UK next.
"The fact that the clothes are all handmade by the designer means that each piece is made with love and attention, something you will struggle to find with many brands available in the UK.
"I'm so excited about the launch of Madame Kuku and look forward to expanding our bank of designers in the future as well stocking more products including interior décor as we grow."
Take a look at Madame Kuku at madamekuku.com.