Holiday parks solve dog dilemma at a stroke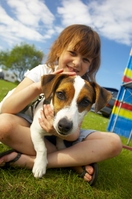 Fido-friendly holiday parks say the number of families bringing their dogs on holiday in 2013 is romping ahead of last year's figures, thanks to the continuing "stay-cation" trend.

The Best of British parks group reported the finding this spring after boning-up on booking data produced by the 50-plus independent holiday parks in its membership.

It believes that people who previously went abroad for holidays are snapping at the chance to let their pets share the holiday experience, and to save on kennelling costs.

Its survey also suggests that many member-parks are taking the lead when it comes to providing attractions which will give them the Rex-factor among holidaymakers.

Doggy day-care facilities, special shower points for muddy mutts, dedicated exercise fields, walking guides for owners, and even dog training classes are among the canine come-ons.

The parks, all of which have achieved top tourist board quality gradings, variously offer holiday caravans and lodges for rent, and facilities for touring caravans, motorhomes and tents.

According to Best of British Chairman Claire Jeavons, people deciding to not to holiday overseas this year are discovering another benefit of a UK stay: "Many families hate being separated from their pets when they go away, but a holiday park solves their dog dilemma at a stroke," said Claire.

"Parks are ideal locations for well-behaved dogs as there is little or no traffic, and often easy access to footpaths and country walks which don't involve getting in the car.

"Dogs benefit as much as humans from a change of scenery, and owners won't have to fret that their pets are pining for them in expensive boarding kennels far away," added Claire.

Dog-owning families wishing to chew over the possibilities can find more information, plus an interactive map of holiday park locations and facilities, at Bob.org.uk.

A free brochure of Best of British member-parks can also be requested from the website.