The Algarve invites visitors to celebrate in style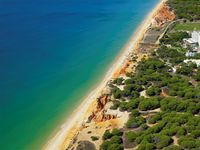 From birthday parties and memorable anniversaries to honeymoons and celebrations, the Algarve is the perfect location to enjoy life's magical moments in all their splendour. The region's beaches, nature reserves, picturesque hinterland, historical castles and fortresses, along with its wide range of accommodation on offer and 300 days of sunshine per year, make it an ideal place to honour that special date in the diary or to commemorate a brand new occasion.
Removed from the stresses and strains of everyday life visitors can truly indulge and celebrate in style in the Algarve sunshine. The Algarve is one of the best value destinations in Western Europe from hotel accommodation and activities to food and drink ensuring an affordable holiday without compromising on quality. The region is easily accessible with its capital, Faro, served by 26 UK airports and only a two and a half hours flight from London airports.
The Algarve has something for every special occasion and here are just a few suggestions:
Birthday parties and anniversaries

The Algarve has bustling, atmospheric towns and picturesque villages, Moorish castles and Baroque mansions, a lively and thriving arts and entertainment scene from museums and galleries to restaurants and bars offering a great location for an intimate anniversary adventure or big birthday bash. For activities take your pick from golf, tennis and a host of water sports to sailing, hot air ballooning, aquatic shows, vineyard tours and jeep safaris.
The Algarve's culinary scene offers another draw for those with something to celebrate with an array of delicious meals from the freshest seafood cuisine in fine-dining and Michelin-starred restaurants to speciality dishes served by friendly locals eager to share their passion for the traditional fare. Of the five Michelin-starred restaurants in the Algarve, Vila Joya and Ocean at Vila Vita Parc, are particular highlights, set in fabulous locations these restaurants offer a meal to remember boasting two Michelin stars each. Vila Joya's Austrian Chef Dieter Koschina attributes his two stars not only to a high level of excellence in technique and service, but says that ultimately the most important factor is the quality produce purchased daily from local fisherman and farmers.
Hen and stag dos

The region's tranquil surroundings complement the harmony of the atmosphere in its many spas which offer a sophisticated setting for an overseas hen party. Brides-to-be can indulge in a massage or bespoke treatment as part of a hen weekend programme or undertake a full Algarvian spa break in a range of luxury resorts. Special programmes are offered for relaxation and anti-stress including relaxation massage, reflexology and hot stone massage to ensure everyone is pampered on their holiday with the girls.
For a suave stag do the Algarve's world-class golf courses, International Circuit Motor Park and range of water sports make it a paradise for the discerning gent and his merry men where a long weekend can be spent soaking up the sun while swapping swing tips.
The region offers a vibrant nightlife ranging from cabaret shows at casinos and lively discos to quaint, welcoming bars and sea-front restaurants. For adrenalin-seeking hen and stag groups, windsurfing, kite boarding, diving and jet skiing are just some of the water sports available in the region.
Honeymoons and Weddings

The Algarve is the perfect place to celebrate on a dream honeymoon or to say 'I do' in a beautiful setting. For honeymooners the region offers both secluded romantic days out exploring national parks including the Ria Formosa, a national park formed of barrier islands accessible only by boat, and exciting scuba diving experiences to witness some of the underwater marvels of the Atlantic Ocean. With the cleanest waters in Europe the region is an excellent destination to spend time on, or under, the water with romantic day trips that take in the Algarve's caves and grottos, discovering the hidden coves of its 200 km coastline to escape from it all.
With over a hundred miles of superb beaches and the wide open spaces of the Monchique Mountains to choose from, there's no shortage of exceptional wedding locations in the region. The Algarve's wide range of resorts can cater for every type of event from casual shore-side blessings to large-scale ceremonies to make the perfect Big Day for any couple getting married.
Summer celebrations

The Algarve knows how to throw a good party and visitors can spend long summer evenings watching the sun go down on Praia da Falésia in Vilamoura where sunset beach parties are a regular affair during the summer months. Visitors can enjoy the balmy temperatures in the evening to explore the region's nightlife from beach bars to marinas to city night clubs, there is something for every party-goer.
The people of the Algarve are proud to show off their region to its visitors and look forward to welcoming those looking to celebrate their special occasion and helping to make their experience in the Algarve truly memorable.
For more information on the Algarve please visit: visitalgarve.pt / algarvepromotion.pt.