The Huxley launches its special edition Summer PDog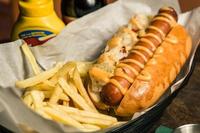 The Huxley is launching a special edition Summer PDog this month to celebrate the arrival of (hopefully!) warmer temperatures.
Until the end of August, the West End venue will be serving its range of gourmet hot dogs with a delicious glass of Pimm's & Lemonade – all for £10. The PDog is a play on words, combining Pimm's with hot dog.
"We launched the original PDog at the beginning of May, offering a glass of Prosecco or a bottle of Pacifico with our delicious hot dogs, and our guests just loved it", says General Manager Murray Ward.
"It's a great combination and with summer around the corner it made sense to add Pimm's & Lemonade to the selection and create a Summer PDog."
What's more, until the end of June groups of friends ordering any combination of at least five PDogs will receive one more free of charge.
The Huxley's selection of gourmet hot dogs includes a BLT Dog wrapped in bacon and served with lettuce, mayo and roasted plum tomatoes, a char-grilled BBQ Dog with Swiss cheese and homemade barbeque sauce as well as a Slum Dog served with curried aubergine, mango mayo, onion bhaji flakes and mint crème fraiche.
For those who prefer a classic hot dog, there is the Naked Dog, served with fried onions or a Chilli Cheese Dog.
With its enviable West End location featuring views of Edinburgh Castle and along Princes Street, The Huxley was launched in January 2013. The bar is all about getting together, being comfortable and catching up whilst enjoying a selection of eclectic beers, quaffable wines and delectable cocktails – all teamed with delicious food inspired by American and British classics.
For more information visit thehuxley.co.uk.