Chrysler celebrate Man of Steel release with limited edition 'S-Series'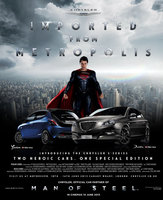 Chrysler UK, the official car partner of Warner Bros. Pictures and Legendary Pictures' Man of Steel, have announced that it is to launch a limited edition S-Series across both it's Ypsilon and Delta ranges to commemorate the partnership.
If that wasn't enough to excite car and film fans alike, Chrysler UK will also be producing a one-off, money-can't-buy Man of Steel-inspired vehicle in each range, with the tagline "Imported From Metropolis." These will be the only two cars of their kind to be produced worldwide, making them priceless collectables from the moment they're registered
The S-Series ranges lend themselves perfectly to the harmony of the movie, tipped to be the film event of the year, having received a Man of Steel-inspired makeover. The "S-Series" will be top of the range vehicles with exclusive interior and exterior spec and will be available to the public to buy for a limited amount of time.
The Ypsilon S-Series will come with 16" black alloy wheels, a dark steel grille as well as matte black bonnet and roof, to name just a few all-new aspects. It will also include dark steel interior accents in keeping with the Man of Steel image.
The Delta S-Series, with 18" dark steel alloy wheels, will include black roof, a full black tailgate, twin chrome tailpipes to name just a few exclusive additions. Inside the interior is enhanced by MomoDesign with piano-black accents, whilst climate control has also been added as well as Blue&Me technology.
In addition to these limited edition ranges, Chrysler UK has also produced a Man of Steel-themed Ypsilon and Delta, both of which will be the only one of their kind to ever be produced! These one-off, collectable vehicles will be top-of-the-range, over-spec models and include exclusive features such as Man of Steel badging, specially embroidered carpet mats, never-before-seen Man of Steel-themed SatNav, a specially designed Man of Steel-branded key fob, as well as all of the impressive S-Series features.
Unfortunately, these two cars will not be available to buy; however, the good news is that they will be available for two lucky members of the British public to win!
To keep posted on all Chrysler UK Man of Steel activity, how to win one of these money-can't-buy cars and to book an S-Series test drive visit chrysler.co.uk and/or facebook.com/chrysleruk