Kayaking, fishing and feeding tortoises - It's Kids' Haven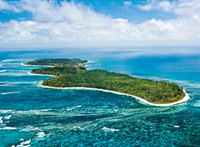 Desroches Island, the luxurious remote island in the Seychelles, is set to launch Kids' Haven, to provide its younger guests with inspiring, exciting and unusual experiences and activities. Kids' Haven launches on 1st June 2013 with a selection of stimulating and exhilarating activities for children and teens including fishing, kayaking, skills learning and tortoise feeding.
Kids' Haven caters for children aged 5 to 12 years of age (children under 5 can attend when accompanied by a parent or guardian) and is open Tuesday through to Sunday from 10.00am until 6.30pm daily. Children can stay for the whole day or participate in select activities which include: yoga, pizza making lessons, conservation walks, kayaking, snorkelling, kite flying and tortoise feeding. "When developing Kids' Haven, Desroches wanted children to fully experience all that the island has to offer, so we have included activities where children can learn a new skill (pizza making) to group classes (snorkelling, fishing and kayaking) as well as conservation walks and tortoise feeding as these interests educate and encourage awareness of the exotic wildlife and plants that inhabit and grow on the island." enthuses Wicus Prinsloo, General Manager for Desroches Island.
To accompany Kids' Haven, Escape, the opulent spa at Desroches Island has developed two treatments exclusively for children: Kids Discovery Massage and a Kids Swedish Massage. These therapies are exclusive to Escape and have been specially formulated for youngsters and teens. Using an exceptional blend of oils, suitable for sensitive skin and light, gentle pressure, the treatments deliver a soothing and relaxing massage.
Already an exclusive destination for families with children of varying ages, the launch of Kids' Haven will complement and further enhance the range of extensive facilities Desroches offers its discerning guests.
Desroches Island truly encompasses luxury, tranquillity and serves as a retreat for captains of industry, world leaders and renowned celebrities. The island is known for its understated luxury and the enviable service and facilities that all guests staying on the island receive as standard.
For more information, visit desroches-island.com.