Travel company celebrates milestones in fight against rhino poaching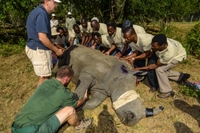 As the survival of the rhino continues to be threatened by the scourge of poaching in South Africa, luxury experiential travel company andBeyond is celebrating the success of a number of initiatives designed to help save the species.
In the culmination of a groundbreaking project, six white rhino donated by andBeyond Phinda Private Game Reserve and translocated to neighbouring Botswana were released in the wild earlier this month.
As rhino poaching reaches an all-time high in South Africa, with two to three rhino killed every day, andBeyond decided to move the six rhino to Botswana. With a strong security and monitoring framework in place, the country's Department of Wildlife Anti-Poaching Unit and the Botswana Defence Force help to protect the species.
Arriving from South Africa under the tightest security, the six rhino were held in an acclimatisation boma before being released last week. All six rhino are now roaming free and doing well.
In a surprise development that delighted andBeyond's translocation team, it has also been confirmed that one of the three female rhino is pregnant and is expected to deliver a calf in five to six months' time.
All six rhino have been collared and microchipped for research and monitoring purposes and will be tracked daily by andBeyond's research team. The information gathered will help guide and secure future translocations. Guests visiting andBeyond's lodges in Botswana will also be able to enjoy guided walks with the company's expert guides to view these endangered animals in their new home.
andBeyond remains proud of its overall security initiatives in South Africa. A joint operation by the Phinda Anti-Poaching Unit (Nyathi APU Security), the SAPS Empangeni Canine Unit, EKZN Wildlife and the SAPS Durban Organised Crime Unit recently resulted in the arrest of three suspected poachers in the town of Jozini in northern KwaZulu-Natal. This joint collaboration is proving effective in fighting the war against rhino poaching and these arrests will serve as a further blow to poaching syndicates operating in our country.
Committed to the protection of rhino and other endangered species over the past 22 years, andBeyond attributes its success in such initiatives to its strong conservation model, as well as its positive relationships with the communities surrounding its game reserves.

For more information, visit andbeyondafrica.com.