Get on track with your Jungfrau VIP Pass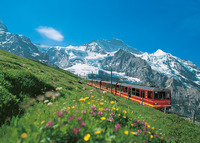 This year it's time to take a holiday to a whole new level thanks to the Jungfrau VIP Pass. This entitles unlimited travel on the magnificent Jungfrau Railways network, uniting seven spectacular mountain transport systems in the very heart of Switzerland.
This summer Switzerland is celebrating its 150th anniversary of Switzerland's first Grand Tour and the birth of modern tourism. Valid for either three or six consecutive days, the passes offer plenty of time for sightseeing, hiking and simply taking in all of the wonderful sights and sounds of the Jungfrau. Located in the Bernese Oberland, against the incredible backdrop of the Eiger, Mo?nch and Jungfrau massif, the region offers visitors the chance to enjoy an incredible variety of natural attractions. Easily accessed by cogwheel railway or aerial cableway are lush Alpine meadows, snow-capped peaks, glaciers, lakes and waterfalls, vast hiking areas and, of course, spectacular views.
The VIP Pass to the magnificent Jungfrau Railway system offers access to all of these unique natural wonders in the UNESCO World Heritage of the Swiss Alps Jungfrau-Aletsch. The highlight of the journey, and one of the modern wonders of the world, with the Jungfrau Railway link, carries passengers on an incredible journey through a world of rock, ice and snow. Seven of its nine kilometres pass through a tunnel hewn into the rock of the Eiger and Mönch mountains. The train stops at the Eigerwand (Eiger Wall) and Eismeer (Sea of Ice) stations, where it's time to marvel at the fascinating mountain world through the carriages' panoramic windows.
Climbing 1400 metres in 50 minutes, the final destination from Kleine Scheidegg is the Jungfraujoch. Perched at 3454 metres, this is known as Top of Europe and is the continent's highest-altitude railway station. Here fine dining and unparalleled views from a choice restaurants open 365 days a year can be enjoyed.
Another major highlight, which is exclusive for 2013, are the BLS cruises on Lake Thun and Lake Brienz: voyages on the turquoise blue waters that will take you to picturesque fishing villages and past fabled castles sitting high in the surrounding mountains with the six day Jungfrau pass.
Take time out, too, to enjoy the Snow Fun Park on the Jungfraujoch or visit the Alpine Sensation exhibition and the ice palace. For a surefire adrenaline rush, why not try the First-Flyer zip ride, a scooter ride on Grindelwald First or even paragliding from Schynige Platte?
With the VIP Pass to freedom, a variety of wonderful accommodation options from simple hostels to luxury hotels, and an Alpine wonderland, there's never been a better time to visit Jungfrau. For more information on the 3-day VIP pass and 6-day Jungfrau Pass and to book your place on the adventure of a lifetime visit jungfrau.ch.