Nissan GT-R Nismo GT3 switch for JMB Racing's GT Tour campaign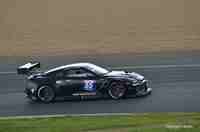 Multiple championship-winning French GT team to run JR Motorsports-built Nissan GT-R Nismo GT3 in GT Tour with possibility for future Blancpain outings.
Crack French GT team JMB Racing has secured a new Nissan GT-R Nismo GT3 to run in GT Tour (French GT), with potential for outings in the Blancpain series later in the year. Following a successful trial of a car in the opening rounds of GT Tour, the Paul Ricard-based team will now have its own new car for the balance of the season. Drivers are yet to be confirmed.

Currently in build at JR Motorsports' facility in Daventry, the new car will be delivered and shaken down at the end of May, in time for JMB Racing to run it at the next round at Spa. The strong showing, coupled with its driver-friendliness for both professional and 'gentleman' competitors at the most recent GT Tour round at Imola, led JMB's World Championship-winning squad to commit to a Nissan. "Having run the car at Le Mans and Imola we decided to become partners, making a long-term commitment," says team principal Nicolas Misslin. "Following Spa, the car will be based at our workshops in Le Castellet, which will help us to get up to speed quickly. Our main target is to reach the highest level with Nissan, something I am very confident we can achieve."
"Having a prestigious team such as JMB Racing opt for the Nissan, after many years of success Ferrari and Maserati, underlines the competitive package and affordability the Nissan GT-R Nismo GT3 offers," says James Rumsey, JRM Group executive director. "With low running costs, strong aftersales and on- track support, it is an increasingly compelling offering in GT3 at both domestic and international level."

JR Motorsports constructed cars are also running in the Blancpain, British GT, VLN and FIA GT series.