Get active on the coast in Kent, Garden of England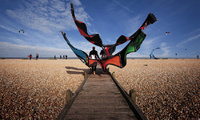 Kent, Garden of England may not be top of mind for a coastal getaway, but there's 350 miles of varied and stunning coastline with panoramic views and not forgetting 8 beautiful Blue Flag beaches.

Enjoy coast, castles and cliff-tops from your saddle as you pedal through some of the counties excellent, way-marked Cycle paths or there are numerous, picturesque walking routes that take in spectacular seascapes, skies and world heritage sites.

For the more adventurous Kent's Coast is an irresistible place to get on, or in, the water and offers an exciting mix of surfing, jet-skiing, kite surfing and sailing.

But don't just take our word for it, here's what Sam Brearey, European and World Sailing Champion and supporter of Active Ramsgate thinks.

"Each little piece of Kent coastline gives you something different. Ramsgate provides golden beaches, Dover the white cliffs while the northern coast line offers expansive sailing waters.

My Olympic campaign towards Rio 2016, will be based in Kent waters. Kent will be where we train to be the best in the world and win Olympic gold in 3 years' time."

Here is just a snapshot…

New for 2013 – Active Ramsgate

Sam Brearey is delighted to launch Active Ramsgate on 27th June - an exciting new programme of cycling routes, walking trails, Geocaching challenges, boat rides and golf courses. New walking routes include 'Sea it all – Coasts, Cliffs and Café Culture', 'Town Rounders – Regency, Royal and Riviera' and 'The Contra Trail – Boats, Birds and Bays'. ramsgatetown.org.

Take to one of the many excellent coastal cycle paths which form part of the National Cycle Network - the Viking Coastal Trail (27 miles) is one of the most attractive leisure cycling routes in Kent, much of which is along the flat promenades around Margate, Broadstairs and Ramsgate; the Crab and Winkle Way (7.5miles) runs between Canterbury and Whitstable and takes its name from the railway line that ran between the two towns until 1952. For further information go to kent.gov.uk

Learn to ride the waves with the experienced team at Joss Bay Surf School. To them surfing is not just sport, it's a way of life, and they thrive on sharing their passion and teaching their skills to people of all ages and abilities on some of the best waves to be found in the south east. jossbay.co.uk

Enjoy a coastal walk with a countryside Kent Greeter. Our Kent Greeters are trained, local volunteers who are passionate about the area they live in, and who want to share this passion with others. It is a great way of discovering the coastline with a friendly local expert. kentgreeters.co.uk

Get Geo Caching - our spectacular coastline is a great place to discover geo caching the high-tech treasure hunting game that can be played by anyone with a GPS devise or Smartphone. Just locate the containers hidden around the coastline and then share your experiences online. explorekent.co.uk

Or simply pop-along to one of this summer's great coastal events, which include:

Clash of Knights at Dover Castle (27 and 28 July)

The ultimate in competitive historical combat as 4 teams, each of 12 fully armoured Knights, attempt to emerge victorious from a recreated 'Crest Melee'. There can only be 1 winning team – alliances will be made and broken as the combatants, overseen by the Knight Marshall and his Heralds, fight with shield and club to knock Crests from helmets in a genuine contest of skill and strength. Meet the teams as they prepare for battle and take your place amongst fellow supporters! Enjoy performances of period music and visit Living History encampments throughout the day.

Hythe Venetian Fete, Royal Military Canal (21 August)

The Hythe Venetian Fete is a tableaux of decorated floats in various themes held on the Royal Military Canal in the town of Hythe every second year on the third Wednesday in August. The Fete attracts an audience of thousands from far and wide to see the two processions of up to 40 floats, first in daylight, and then again after dark when illuminated. At dusk between the two parades there is a grand firework display.
Gates open at 4pm, events start at 5pm, procession of floats 7pm and after dark hythe-venetianfete.com

Broadstairs Water Gala (21 August)

Celebrate the best of the English seaside with traditional beach competitions and a stunning aerial display. Start the day with a Teddy Bears picnic, head for the beach to create amazing sandcastles or hire a beach hut for the day and decorate it with a Caribbean theme – think ship's cabin, plundering pirates and treasure chests – to see if you can win the Best Dressed Hut competition. Plus there's an all-day family fun fair and an evening finale of music and fireworks. broadstairswatergala.co.uk

Margate Masters Beach Volleyball Finals, Margate Main Sands (24 and 25 August)

Free grandstand seating on the beautiful golden sands at Margate is available to all spectators of the grand finale of this year's Volleyball England Beach Tour. The Margate Masters has been voted 'Best Event' by the players for the past 4 years and this is a great opportunity to witness top class beach volleyball players battle it out to become National Beach Tour Champions 2013.

If you find the play inspiring, there's also the opportunity to 'Get involved' with the community 'Go Spike' courts. visitthanet.co.uk

Wheels and Fins Festival, Joss Bay Surf School, Broadstairs (13 to 15 September)

The festival builds on the active lifestyle already evident at the beach and incorporates a number of different fun and sporting events aimed at all age groups. Family fun during the day making way for a relaxing evening out – and most importantly it is free to anyone who wants to go along and get involved.

Planned activities include a skateboard mini-ramp competition, downhill/slalom skateboard competition, stand-up paddle board race, soap box derby, beach volleyball tournament, licensed beer tent and food court. Live music on multiple stages includes local talent as well as big named acts. wheelsandfinsfestival.com

For further information on activities and events in Kent go to visitkent.co.uk/activecoast