Snowbody can resist the lure of Arctic Alley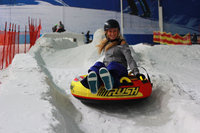 Take the plunge on the newest coolest most exciting ride this summer on the Snow Centre's brand new Arctic Alley – real thrills on real snow.
Speed down the chute, through the tunnel, braving the bumps, twists and turns on your Ringo for hard-to-control excitement. The UK's largest indoor real snow training slope has never been so much fun!
It's a great family activity, with no snowsports skills necessary (you just need to be over seven years old and 1.2 m tall) and at £10 for an hour in the Alley you get maximum thrills for your money. Just hold on tight and fit in as many rides as you can! Younger kids can enjoy a traditional sledging session on the slopes for only £5.
The Snow Centre is the closest real snow to London and is quite literally the coolest place to be as the summer heats up. It offers a comprehensive range of Snowsports lessons for adults and children, recreational skiing and snowboarding, regular freestyle sessions and a great venue overlooking the slopes for drinks, snacks and meals.
If the thrill of Arctic Alley gives you a taste for Snowsports there is no better time to have a go at skiing or snowboarding. Beginner's lessons are half price over the summer so you can master the slopes ready for the winter! With the best tuition this side of the Alps from the UK's only indoor slope certified as a BASI Centre of Excellence for Snowsport instruction it's the perfect time to try something new.
Advance booking for Arctic Alley is recommended if you want to be amongst the first to experience the best snow-thrill this side of the Alps. For more information on snow sports lessons and summer discounts visit thesnowcentre.com.