Obika brings the Italian Aperitivo to Taste of London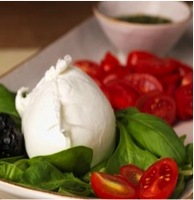 London is at the forefront of the hottest culinary trends in the world, and the Italian Aperitivo is in vogue. The custom of Aperitivo is a tradition deeply rooted in Italian culture, whereby early evening drinks are enjoyed and paired with antipasto to whet the appetite for your evening meal. This June, Obika will bring the concept of Aperitivo to the most anticipated foodie festival of the year, Taste of London.
Obika will invite guests to take a moment to sit, relax and unwind with a delicious offering of all things Italian, including an impressive 5kg treccia Mozzarella! Choose from an Aperitivo Spritz, traditional Bellini, to a chilled glass of FIOL Prosecco DOC, accompanied by only the freshest of products sourced from Italy, including Obika's signature range of artisan Mozzarella dishes.
Mozzarella Masterclasses at stand S7

Obika will be holding two masterclasses for all Mozzarella aficionados, where you can discover the time-honoured traditions of crafting the world's finest Bufala Campana DOP to Stracciatella di Burrata. Once you have been fully immersed in the creation of Obika's Mozzarellas, guests will be able to savour and taste the deliciously creamy buffalo produce alongside a selection of antipasto and cured meats pared with our Feudi di San Gregorio wine
The second masterclass is all about matching your Mozzarella with the perfect Aperitivo. Select from a range of delicate Paestum, deliciously creamy Burrata, or the naturally smoked Affumicata, to pair with FIOL Prosecco DOC. The smoothness and creaminess of the Mozzarella is perfectly balanced by the crisp fruit flavours and fizz of the prosecco. Sign up for Masterclasses when you arrive at Taste of London by visiting the Obika (Stand S7). For more information regarding Masterclass times please see the Obika page on the Taste of London website.
Bringing you the Taste of London
If you are unable to attend Taste of London, you can still enjoy our exclusive menu designed for this event for only £20 at both of London's Obika restaurants located in Canary Wharf and South Kensington.
The limited edition Taste of London set menu consists of 3 courses, including a traditional antipasto, handcrafted traditional Italian pasta or pizza and a classic dolce of tiramisu or torta ricotta (cheesecake created using buffalo ricotta), served with a complimentary glass of prosecco.
Thursday 20 June – Sunday 23 June 2013
S7, Taste of London, Regents Park, London, NW1 5HA
For more information, visit obika.com.