Juke cleans up with flexible new diesel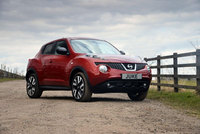 Lower emissions, greater fuel economy, reduced noise and more torque – these are just some of the benefits of the latest 1.5-litre dCi diesel engine now in the Nissan Juke.

Since its launch in the UK at the end of 2010, more than 19,000 Jukes – around a third of all sales – have been powered by the 1.5-litre dCi engine. With a host of improvements the new engine is expected to be even more popular.

The changes have boosted maximum torque from 240Nm to 260Nm at 1,750rpm, with 80 per cent of this figure available from just 1,500rpm to improve driveability. And with CO2 emissions of only 109g/km and combined fuel economy of 67.3mpg, the new unit is the most efficient engine in the Juke line-up.

The improvements have been achieved thanks to a host of technical changes.

These include revised piezo-electric fuel injection nozzles, which now have a more precise spray pattern for better combustion (with as much as 15 percent less unburnt fuel) and a new, more responsive, low-inertia variable geometry turbocharger fed by a more direct – and more efficient – air intake path.

In addition, a closed-loop low-pressure exhaust gas recycling (EGR) system, in which the exhaust gas is cooled before being re-introduced to the intake system, has helped ensure the unit is compatible with forthcoming Euro6 emission regulations.

Other changes include a new thermostatically-controlled variable displacement oil pump which reduces internal friction by adapting automatically to the engine's needs and oil viscosity.

The new diesel features low friction enhancements including diamond-like carbon (DLC) coatings for the tappets and now also features Nissan's automatic Start/Stop system. With highly efficient smart management technology the engine restarts within 0.5sec of the clutch being engaged. Reduced combustion noise further enhances the unit's overall refinement.

Changes have also been made to the gear ratios. The 1st and 2nd ratios are a little shorter to allow sharper responses at low speeds, while the remaining four ratios are slightly longer, taking advantage of the improved torque to deliver better fuel efficiency. Over the official combined cycle, the new Juke 1.5-litre dCi returns 67.3mpg as opposed to the previous unit's 58.9mpg, a 14 per cent improvement. CO2 emissions fall from 124g/km to 109g/km.

Fuel efficiency is also helped by the use of the Nissan Dynamic Control system, which enables the driver to select from three engine settings – Eco, Normal and Sport. This system now not only selects appropriate pedal sensitivity settings in Eco and Sport modes, but also limits maximum engine torque in Eco mode to 220Nm. In Normal and Sport, the full 260Nm is available. The unit's overall power output remains at 110PS while performance figures (109mph maximum speed, 0-62mph in 11.2sec) are also unchanged. The new generation engine will be available across all Juke grades excluding the NISMO.

The best-selling model is expected to be the n-tec, which showcases new technology such as the latest Nissan Connect communication centre. As well as new navigation software and a 5.8-inch colour touchscreen, the system incorporates advanced features such as Google Send-To-Car, which allows an owner to plan a journey on their PC or tablet at home or in the office and then send the instructions to the car ahead of the trip.

"As well as the obvious advantages of lower emissions and improved fuel efficiency, the higher levels of torque from the new engine mean greater flexibility and more refined cruising as well enhanced in-gear performance around town," said Paul Wilcox, Senior Vice President, Sales and Marketing Nissan in Europe.