Two thirds of female drivers at risk due to poor car maintenance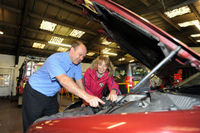 A staggering 67 per cent of female drivers in the UK are putting themselves at risk on the road by never checking their brake fluid levels, according to the latest research from countrywide independent garage scheme Trust My Garage.
The Scheme, boasting over 2,000 member garages, carried out a straw poll of 100 female drivers to see what regular maintenance checks they carry out on their vehicles and found that the vast majority never carry out any maintenance themselves. Among the more startling results, 63 per cent of female drivers stated that they never check their engine coolant, and just under half of those questioned never check something as simple as their oil levels.
It is recommended that motorists check their fluid levels routinely to ensure they remain at an operational level. They should also be checked before any long journey.
Brake fluid is normally clear with a gold or straw coloured hue. If it is black, it may be contaminated and have to be replaced. Although vehicles typically only have to have brake fluid replaced every two years, it is advised that the levels and colour be checked at least every month. Only four per cent of respondents in Trust My Garage's survey said they carry out regular brake fluid checks. If brake fluid is not at the correct level, motorists are at risk of brake failure and are putting themselves in danger of potential crashes while on the road.
Engine coolant should be checked every week to ensure that there is no leaking, which could lead to a potential breakdown. An undetected coolant leak can cause a car to overheat when in motion or in heavy traffic. It is very important to check the engine coolant with the engine cold as there is a serious risk of scalding if the engine is at its normal working temperature.
It is also advised that oil levels be checked weekly. If oil levels do go down below the "low" mark, drivers could be faced with a damaged engine and potentially a costly repair. Only five per cent of female drivers polled said they check their engine coolant and oil levels every week.
While it is recommended that motorists take their vehicles to a trusted garage for regular servicing, there are basic checks they can do themselves to ensure they remain safe on the road and avoid expensive repair bills. Terry Gibson at Trust My Garage said: "It is astonishing to see just how many motorists are failing to carry out basic car maintenance tasks. Simple tasks like checking your brake fluid and engine coolant levels and taking your car to a Trust My Garage member for regular servicing not only keeps you safe while on the road, but it could help you to avoid expensive repair bills should something go seriously wrong with your vehicle."
On a more positive note, female drivers are doing more to check that their tyres are fit for purpose before setting off on journeys. Of those surveyed, 33 per cent stated that they check their tyre tread depth and tyre pressures once every six months. Ideally tyre pressures should be checked at least monthly. High mileage drivers should check their tyres more frequently. As well as tread depth and pressure, it is a good idea to look out for uneven tread wear which could be an indication of a more serious problem – or incorrectly inflated tyres.
GuideBridge MOT and Service Centre, a Trust My Garage member in Ashton, Greater Manchester is doing its bit to help women better understand their vehicles. The garage runs regular free courses exclusively for women, demonstrating how to carry out basic essential maintenance checks, including checking and topping up the oil, water and anti-freeze. They also show female drivers how to check tyre safety.
Jan Lord, Business Development Manager at Guide Bridge, which calls itself the most 'female friendly garage in Ashton,' said: "A large proportion of our customers are women; there is around a 70:30 split and I think this is because we have female faces in the garage which makes female drivers feel more at ease when entering a garage environment. We hold regular workshops for women to teach them the basics about their cars. Because of our approach to female drivers, more of our female customers are pro-active in addressing any initial problems with their cars, which is saving them money in the long term."