Rare, 'matching numbers' Porsche 911 Carrera RS 2.7 Touring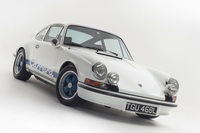 With the Porsche 911 celebrating its 50th anniversary in 2013, independent specialist Autofarm is offering an extremely rare and original RHD RS 2.7 Touring derivative for sale. One of just 94 made in this specification for the UK market, it was first owned by successful Cypriot rally and rallycross driver 'Dimi' Mavropoulos. Having retained all its original major components (hence the matching numbers), it has become a rare survivor. Special cars in some markets now achieve prices over £300,000.
"The 2.7 Carrera RS is revered by many as one of the finest 911s ever," says Autofarm's founder Josh Sadler. "Improved suspension, a larger engine and sporting the iconic 'duck tail' spoiler ensured it was hugely successful on the track, yet is still highly rewarding to drive on the road. This blend of performance and usability has been a Porsche trademark ever since."
As a Porsche model that was raced and rallied to great effect, standard, unmolested cars such as this one retaining all its original major components are highly unusual and rarely appear on the market. With many having been rebuilt and others blighted with patchy and often murky histories and with a plethora of replicas around, Sadler believes this particular 911 is one that will appeal to serious enthusiasts. "Performance cars, especially ones that are now 40 years old, get damaged, repaired and have key parts swapped around," explains Sadler. "Whilst it has covered 135,000 miles, this particular car is truly original, having never been modified or suffered any significant accident damage."
Sadler, who founded Autofarm in 1973, the year this car was built, is renowned in Porsche circles for his knowledge of the Carrera RS and tracking the history of individual cars. "Autofarm has a long relationship with this car and our own records detail all the servicing work that we have done since 1981," adds Sadler. After being purchased in the UK in 1973, this 911 Carrera RS 2.7 spent two years in Cyprus, including participating in some light competition with 'Dimi' Mavropoulos, a driver who was hugely successful in rally and rallycross with a Group B Audi Quattro in the 1980s. Since then only three more enthusiasts have owned the car, including most recently, an eminent judge who has owned the car twice.
With 2013 marking the 50th anniversary of Porsche's 911, Sadler confirms interest is high in the model. "Sales of quality early 911s have been brisk this year and the chance of a race at Goodwood means that prices for early cars will also remain strong. Off the back of the 40th anniversary of the RS, this model is the car the purists want."

For more information, visit autofarm.co.uk.