The OPUS folding camper featured in BBC's 'The Apprentice'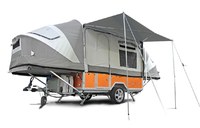 OPUS is the name of a new folding camper from Suffolk based design company Purple Line Limited – who decided to take a new look at a familiar concept and came up with a truly innovative solution.
It's small and compact…
With fuel prices set to rise, yet again, and storage space at a premium, touring with a caravan is becoming progressively more expensive. OPUS has the answer. It's lightweight – 700Kg unladen and has a low profile at just 1.17 metres, making it easier and more affordable to pull along.
OPUS is designed to give convenience and ease of use… It transforms quickly and easily into a large comfortable living space with two fixed double bed areas, sleeping four adults in comfort and there's additional double bed space by way of a converting seating option. It has mains power hook-up plus 12-volt electrics and lighting, as well as top-of-the-range fixtures and fittings including, gas hob, stainless steel sink with fresh and waste water connections, air-heating system, plus ample seating. (Check out the 360º interior shot at opuscamper.com).
OPUS has a really handy feature – it's built to be very strong and sits on an 'industry proven' BPW - TUV type approved chassis. It also has two reinforced folding lids which can be fitted with a universal racking system to provide the perfect load carrying platform to transport bikes, boats and many other adventure toys – up to 450Kg.
But that's not all…
OPUS – includes a large breathable tent covering, plus an additional 1.5 metre wide porch canopy, offering the ideal sun shade, or a place to set up the barbecue when the heavens open. And if you need even more space, there's the option of an extra 2.4 metre wide awning with two inner tent extension pods.
OPUS – for people who just want to 'get out there' and have some fun. Just hitch up and go, without fuss and with little effort – and when you arrive, get set up quickly and easily.
To find out more visit: opuscamper.com