Hastings Seafood & Wine Festival 2013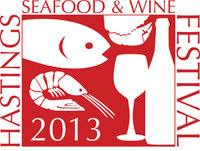 Seafood sophisticates and wine connoisseurs take note. The date to put in your diary for 2013 is the weekend of 14 & 15 September 2013. The venue - Hastings Stade Open Space, East Sussex.
The Hastings Seafood and Wine Festival, now in its 8th year, is a celebration of Hastings' sustainable fishery, its vineyards and excellent local food producers.
Attracting more than 40,000 food lovers to taste succulent dishes from over 30 food stalls - where local chefs conjure up a colourful array of flavours - the festival runs from 11am on the Saturday to 7pm on the Sunday.
Festivities take place in the atmospheric Old Town in the heart of the picturesque fishing and cultural quarter known as The Stade with its historic Net Shops, home to Europe's largest beach-launched fishing fleet. The festival's now permanent home on the Stade Open Space also boasts the newly opened Jerwood Gallery, a prestigious collection of 20th & 21st century British art. Download a Stade leaflet at:
visit1066country.com/explore-1066-country/hastings/the-stade
Wander through the tents and marquees trying locally landed fish and wine from the award-winning vineyards around Hastings. Sussex and Kent are the two top wine producing areas in the country and here you'll find some of the best in the area.
Enjoy a Jazz Breakfast with a relaxed coffee and a croissant on the Sunday morning, musical entertainment from the cream of the local music scene throughout the day and walks and talks on the 1,000 year history of the Hastings' fishing fleet - with local fishermen doing net-making demonstrations. There really is something for everyone at this festival, which has fast become and established and eagerly anticipated event in the Hastings' calendar.
So that you can indulge, hop on one of the frequent fast trains from Charing Cross, Waterloo East, London Bridge and Victoria and then stroll the 15 minutes to the festival site or stay in one of the many local hotels and B&Bs. Do make sure you book early as repeat visitors may just beat you to it if you don't.
Among the many foodie delights of Hastings, Craig Sams and Jo Fairley (Green & Black founders) are at Judges Bakery, the legendary Maggie's fish and chips can be found on the beach and Alastair Hendy has recently opened his homeware shop and restaurant in the High Street.
For general information go to:
visit1066country.com/events/hastings-seafood-and-wine-festival-p582171