The Perfect Wave joins forces with Quiksilver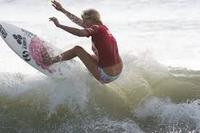 Surfing Holiday specialist The Perfect Wave has joined forces with Quiksilver – one of the best known brand names in the world of surfing – to launch a choice of holidays based at the Quiksilver Boardriders house at Hossegor – the European capital of surfing – near Biarritz in South-West France.
The Boardriders Week is a unique opportunity to try surfing for the first time or perfect your skills alongside pro surfers. All packages include a week's immersion in surf culture, with two surfing sessions a day and many other activities, including visits to a famous shaping workshop, skate sessions on the Surf Camp ramp, paddle board sessions, bike outings, beach football, volleyball, concerts and lots more.
All courses are suitable for adults and teenagers and for both beginners and advanced surfers. Lessons are tailored according to age, proficiency and physical condition, to ensure maximum progress and enjoyment. This year will include themed courses with top experts: Jiu Jitsu, Skate, Outdoor Fitness, Shape & Surf Improvement and VIP access to the Quiksilver Pro France 2013 competition.
There is a choice of five different seven-night packages to choose from – including a skate week for those who prefer to stay dry – all of which include coaching from top surf and skate professionals including Jeremy Flores, Tom Carroll and Mark Phipps.
Here is further detail of just two of the packages…
Quiksilver Pro France – 7 nights from £655 per person
This surfing holiday is timed to coincide with the Quiksilver Pro France competition which will take place from 27 September – 7 October. The holiday costs from £655 per person which includes transfers between Biarritz airport or Bayonne/Centre station and the Boardriders House, 7 nights' accommodation at the Surf Camp, VIP Pass to the Quiksilver Pro France, parties & concerts pass, daily breakfast & lunch, intensive surf course including 2 sessions a day for 6 days (all lessons overseen by surf pros), all equipment (surfboard and wetsuit), transport around surf spots and additional activities (e.g. trip to a famous shaping workshop, concert, stand-up paddle outing, introduction to skating, etc.).
Surf Course Week – 7 nights from £699 per person
The ideal holiday for surfers of all abilities, from first timers to intermediates, or experts, who want to hone their skills with hints and tips from the pros. The Saturday to Saturday trip costs from £699 per person which includes 7-nights' full board, transfers between Biarritz airport or Bayonne/Centre station and the Boardriders House, 2 sessions a day for 6 days (overseen by the Pro Riders), video analysis & feedback, talks & tips from the Pro Surfers on nutrition and training and extra activities as above.

The Perfect Wave is the world's fastest growing surfing holiday company with a head office in Sydney plus hub offices in Europe, Japan, Indonesia and the Maldives.
The company offers a wealth of holiday options for couples, groups and families with everything from learn-to-surf trips to some of the world's most challenging waves. All trips can be tailor-made with accommodation to suit every budget from basic beach hostels to serious 5-star luxury. Live-aboard boat trips (surf charters) are also an option with a broad choice of vessel and destination.
The Perfect Wave is fully bonded and will book flights for all holidays on request.
For further information, visit theperfectwave.eu.com.