Double your money with a trip to Moscow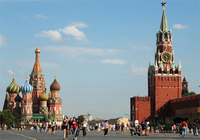 Russia is proving one of this year's must-see destinations according to Post Office Travel Money. The UK foreign exchange provider has registered a 55 per cent growth in Russian ruble sales this year compared with the same period in 2012 – making the Russian ruble one of its top five fastest growing currencies.
However, research for the Post Office City Costs Barometer reveals that while tourists visiting Moscow on the new 'low-cost' flight from Gatwick Airport will pay less for accommodation and sightseeing than in traditional favourites like Paris and Rome, they face prices up to twice as high for living costs than in other Eastern European cities.
Findings show that accommodation prices in the Russian capital are very reasonable. Three-star city centre accommodation in Moscow is available for as little as £89 for a room for two for a two night weekend break – much cheaper than Paris (£204) and Rome (£243). It is also less expensive than accommodation in Tallinn (£116). And a city bus tour for two in Moscow is also good value, second lowest-priced in the survey behind Vilnius (£21.58) at £25.89.
But the Post Office is encouraging holidaymakers to be much more money savvy when it comes to costs for meals, drinks, sightseeing, airport transfers, city transport and accommodation. The City Costs Barometer surveyed the same 12 items in four other Eastern European cities, demonstrating that Moscow was much less competitive in comparison.
Using current exchange rates, the Post Office found that Vilnius in Lithuania (£202.93 for two) was half the price of Moscow (£405.72) for the same 12 items, while Budapest in Hungary (£210.69) was almost as cheap. The other two cities surveyed – Riga in Latvia (£240.37) and Tallinn in Estonia (£284.91) were also significantly cheaper than Moscow.
Eating out is likely to be the biggest blow to the budget. At £172.59 for an evening meal for two with wine each night on a two-night weekend break, Moscow is over three times as expensive as Budapest (£48.23) and double the price of the other cities surveyed. Wine is another budget buster at £9.71 a glass or £19.42 for two – compared with £3.32 for two in Budapest, £4.86 in Vilnius, £5.22 in Riga and £7.02 in Tallinn.
Despite more flights and accessibility to Moscow, the price of weekend flights for two to the city is likely to put the biggest dent in the budget. At £639.96, this is twice as much as the price of flights with a low cost carrier to Vilnius – before factoring in the additional Russian visa cost of £77.60 per person (including mandatory service charge) - and £178 more expensive than Budapest, the next highest-priced for flights.
The Post Office research found that the cost of flights for two to Moscow fell from £639.96 to £255.96 if holidaymakers travelled midweek. By comparison, two people visiting Tallinn could only save £30 between them by swapping weekend for midweek flights.
Andrew Brown of Post Office Travel Money said: "The cost is undeniably high but, while Moscow cannot compare on price with other Eastern European cities, its barometer total is cheaper than in other major capitals like Paris and Rome. It's not surprising that the new Gatwick flight to Moscow is creating demand but holidaymakers should consider carefully when to travel. By swapping weekend for midweek travel, a couple can shave £384 off the cost of their trip3.
"It is important that holidaymakers do their homework before booking and consider the cost of living in destinations they are considering, as well as the package price. Rising prices in cities surveyed for our City Costs Barometer together with the current value of sterling make it even more important that they consider which city to book. Checking prices for key items like meals, drinks and sightseeing is also essential as these are costs that most city break tourists cannot avoid."
Elsewhere, the latest Post Office Holiday Money Report trend update indicates that UK holidaymakers are not being deterred from travelling by the weakness of sterling or financial constraints. Three-quarters of the Post Office top 20 bestselling currencies are showing a healthy sales increase for January-May 2013 compared with the same period in 2012. And in its Fastest Growing Currencies chart the leading 10 currencies are showing increases of at least 35 per cent rising to 135 per cent year-on-year growth for the Vietnamese dong.
Croatia looks set to have another bumper year as sales of the kuna are up 55 per cent this year on the back of significant increases over the past three years. Similarly Budapest is having a second successive boom year as sales of the Hungarian forint have mushroomed by a further 72 per cent this year, only just ahead of the Mexican peso (+70 per cent), which is now on its third successive year of significant growth.
The Russian ruble, Hungarian forint, Mexican peso and Croatian kuna are among 30 currencies available on demand at 1,600 larger Post Office branches. These currencies and the Vietnamese dong are also among more than 70 currencies, which can be pre-ordered at over 11,500 Post Office branches or online at postoffice.co.uk for next day branch or home delivery. Higher rates are offered on bureau transactions of over £500 and over £1,000 and for all online transactions.