Minke whales spotted off Australia's Lizard Island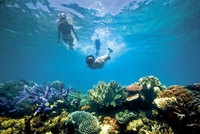 Minke whales have been spotted along the reefs at Lizard Island off Australia's Queensland coast on their annual migration north.
Between May and August each year these enigmatic and graceful creatures migrate north to the stretch of reefs south of Lizard Island, known as the Ribbon Reefs.
The inquisitive nature of the minke whale brings them close to boats to linger with divers and snorkellers, at times as close to up to a metre away. The whales are mostly encountered alone or in family groups of two or three, but can be in groups of up to eight.
Ross Penegar, Marine and Dive Manager at Lizard Island said: "Some of our guests on board our dive and snorkel boat Serranidae have recently been lucky enough to see a minke whale jump out of the water. They are beautiful, curious creatures so we always look forward to seeing them at this time of the year."
Penegar said this time of year also sees humpback whales breaching in the waters around Lizard Island, with guests often spotting them from the comfort of Ospreys Restaurant or the Beach Club.
However, if guests are eluded by whales this year they can still get close to other marine creatures in the waters off Lizard Island.
At the world-famous Cod Hole, at the northern end of Ribbon Reef 10, divers and snorkelers can see the curious Potato Cod. And just metres from the beaches at Lizard Island, guests can snorkel next to turtles, parrot fish and swim over 100-year-old clam gardens off Watson's Bay.
Guests can also try and spot marine wildlife from the air with the new helicopter tours available from Lizard Island. Operated by Skysafari Australia, scenic flights from Lizard Island fly approximately 500ft to 1500ft above sea level presenting an amazing aerial perspective of the Great Barrier Reef. From 500ft it is possible to see a large number and variety of marine and mainland wildlife - everything from whales, sharks, manta rays and turtles to dugong and crocodiles, wallabies, sea eagles and wild boar on the coast.
Award winning and a constant favourite in the world's 'best' lists, Lizard Island is located right on the spectacular Great Barrier Reef, 240km north of Cairns and 27km off the coast of Cape Flattery. An idyllic island fringed with pristine coral reefs, crystal clear waters and 24 powdery white beaches, Lizard offers the postcard perfect setting for an Australian island escape.
For more information on bookings and special offers go to: lizardisland.com.au