Make your wardrobe transcend the seasons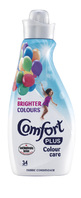 Get savvy and invest in trans-seasonal fashion items that will see you through summer and beyond!
With the unpredictable weather in recent months, it's difficult to tell what season we're in sometimes, but despite the fact that winter seems to have outstayed its welcome this year, research by Comfort Brights fabric conditioner reveals almost half of women (44%) in the UK admit they use the excuse of the "change of seasons" to buy new clothes.
We're a nation of shopaholics, with the research revealing that women have an average of 100 items of clothing, 10 of which they have never actually worn. Which is why Comfort Brights – a fabric conditioner specifically designed to help keep your colours and whites brighter and more vibrant – is on a mission to get the nation thinking 'trans-season' when it comes to their fashion behaviour.
According to leading stylist Mark Heyes, "People should be making smarter decisions about their clothes. Our unpredictable UK weather means that seasonal fashion is becoming obsolete, so we need to be thinking more carefully about investment pieces that can see us throughout the different seasons. Buying investment pieces can also help us save a bit of money in the long-run as the high quality staples will last longer and work much harder for us!"
"Between-season dressing is all about knowing what to wear and when, learning to layer and good little styling tricks. Designers are now pretty clever in the way they create trends that work across different seasons, which means you can buy something in December that you can work a look with in July," Mark continues.
The poll also revealed that over 60% of women admit to having thrown items of clothing away because they weren't as bright as they once were.
Comfort Brights' top 5 trans-seasonal wardrobe tips
1. Minimalist approach. Between-season dressing can be tricky; it's hard to commit to new season trends when there's a (small) chance of sunshine. Take a minimalist approach by choosing light, key pieces in beautiful colours and natural fabrics. And go pared-back with styling – just perfect for layering.
2. Breathe new life. Get creative and rework your existing clothes and accessories. Think about making a sleeveless top or cutting off those old jeans to make some cute summer shorts.
3. Be a savvy shopper. I know it's difficult but sometimes taking a step back before hitting the till with an arm full of clothes is the sensible thing to do. It's all too easy to be seduced by trends, colours and sparkles. The question is, are you going to wear those clothes when you get them home? Visualise what you already have in your wardrobe and work out what you'll wear them with and when. For example, a crisp white shirt is a brilliant staple that can be worn in a hundred different ways through summer as well as winter. We're also very lucky this year as florals will be super fashionable throughout summer, autumn and into the winter!
4. Care for you clothes as you would your skin or hair. Clothes are made to last, and they absolutely can through every season. But to do this they really need looking after. Give them a bit of TLC by using Comfort Brights fabric conditioner – it will help keep your bold colours bright and your whites super white; that way they'll stay looking newer and fresher for longer.
5. Layer up. The art of layering is easy when you know what fabrics to aim for. Lace is the real hero for in between season dressing; it can be sweet and romantic, or sexy and dramatic for a different looks for all seasons.