French Summer Festivals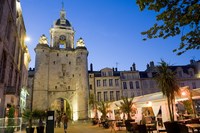 France is the classic summer holiday destination where we as a nation continue to hold a fascination and flock to in droves. Many of us have visited the length and breadth of the country but why not coincide a trip with one of the country's many events and festivals throughout this summer. The feeling of experiencing a new culture and event will add vibrancy to the trip. Pierre & Vacances has much of France covered so whether it is music, food or a cultural festival the perfect mix can be found. Pierre & Vacances self-catering approach is ideal for exploring the surrounding towns, countryside and their respective events without the constraints of meal times. Here we show you a snippet of what is on offer and where the best apartments are to stay:
Bastille Day 14th July

Bastille Day is the big day of the summer for the French, a celebration of all that is French. The date signifies the beginning of the French Republic after ridding the country of its monarchy. La Rochelle comes alive on Bastille Day and is one of the best locations in France to celebrate. Classic French markets and live music is scattered through the day and into the night when the fireworks illuminate the sky. Residence Centre in La Rochelle provides basic but modern accommodation at great value in an ideal location near the old harbour. Studio apartments for 2 or 4 are available along with an indoor swimming pool.

Prices for 7 nights in a studio for 4 starts at £673 from the 13th July, promotional price of £539 for a limited time.

Aix-en-Provence Festival 4th – 27th July

Marseille is the 2013 European City of Culture but the festivities go beyond the port city with events throughout Provence. The Aix Festival is an annual occurrence but is set to gain a further boost due to the support of MP2013. The venues make the event with grand indoor theatres and outdoor venues set amongst historic landscapes and architecture. The programme consists of operas and concerts with the London Symphony Orchestra in residence. The Pont Royal Holiday Village is ideally situated in the Provence region between Aix-en-Provence and Avignon within easy reach of Marseille to experience other MP2013 festivities. Swimming pools and children's clubs as well as numerous other activities on offer mean this is more than just a base for the festival.

Prices for 7 nights from the 6th July start at £2,291 for a select 1 bedroom apartment sleeping 4. Promotional price of £1,921 for a limited time.

Jazz at Altitude 27th July – 4th August

There are numerous jazz festivals through France such as that held in Nice or in Mulhouse but for something different head to Chamonix. The world renowned ski resort takes on a different vibe in the summer and for a week from the 27th July jazz will fill the fresh mountain air. The Cosmo Jazz Festival takes place for a second year on the Arete des Cosmiques at the top of Aguille du Midi with evening events in the town of Chamonix. The Residence La Riviere in Chamonix has been recently refurbished and consists of modern apartments.

Prices for 7 nights in a 4 person studio starts at £452.
The Premium Residence La Ginabelle is a luxury option in Chamonix and starts at £818 for 7 nights' accommodation in a 1 bedroom apartment sleeping up to 4.
Fete de la Gastronomie 20th – 22nd September

French food is well heralded so why not take advantage of a whole weekend dedicated to the French gourmet scene. Events take place through the whole of France from food markets, cookery demonstrations and of course eating haute cuisine cooked by some of the finest chefs in any area. The full programme is yet to be finalised but based on previous years a great place to be is Normandy, although even New York and Tokyo are taking part.
Deauville is near Caen, Bayeux, Rouen and Le Havre meaning food and fresh produce is in plentiful supply. The town is home to 4 residences with a holiday village also nearby. The pick of the residences is the Premium La Villa Gardénia with the hotel section, ideal for those not needing kitchen facilities. Just a few metres from the boardwalks of this famous seaside resort the hotel also features an indoor swimming pool and steam room. A double bedroom costs from £77 per night.

So, as we would expect with France, there is something for everyone, from foodies to music fans to partygoers there are a wide range of events.

For more information on any of the residences and their availability visit pv-holidays.com.