Rip it off and start again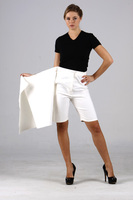 The transition from formal cocktail-hour attire to laid-back party time wear is now as simple as popping open a button. A Latvian fashion designer's creation of a skirt/short combo – which offers effortless glamour with a playful twist – is being introduced to Britain for the first time.
The finely-tailored crepe garment looks like a skirt from the front, but comes just half-way round the wearer's back, leaving a cheeky glimpse of a pair of over-the-knee shorts underneath. Then, come evening, the cocktail skirt can simply be taken off to reveal the shorts in all their glory.
The outfit is an exclusive design by Avrils Linde brought to the UK by online fashion store Madame Kuku and selling for £110. Arvils, who swept to fame in Latvia in 2010 with high-profile and controversial designs for top chief executives has wowed the booming Baltic fashion industry. He is one of a host of stylists from Estonia, Latvia and Lithuania signed up by Baltic fashion house Madame Kuku (madamekuku.com). The website is the first of its kind to sell Baltic womenswear, menswear, childrenswear, accessories and beauty products to the UK market.
Madame Kuku is the brainchild of 28-year-old Baiba More: "We sell very elegant and sophisticated clothes, but at the same time each piece has something a little bit exciting about it. Currently Baltic fashion is huge in Paris and I can see it really making its mark in the UK next."
Along with her Latvian business partner Liene Gavrilova, Baiba has recruited some of the best known and upcoming designers from the Baltics including Karaliene, Freak Factory, Peony, Varkki and BeCarousell, selling everything from dresses, handbags and lingerie to men's shirts and skincare ranges.