Laid back luxury with the stars on Florida's Captiva Island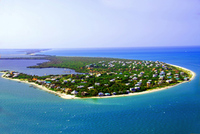 Forget Cannes, the Caribbean and Los Angeles for brushing shoulders with celebs and luxury holidays. Instead, head to the island of Captiva, lying off Florida's Gulf Coast, which has been a hideaway for A-list celebrities for the last 100 years. This comes as no surprise with Captiva's castaway island atmosphere, picture postcard beaches and luxury properties, none of which are more than a quarter of a mile from the beach.
Visitors are likely to wander past some of the biggest celebrity names as Captiva is historically a popular destination for A-list visits including AOL founder, Steve Case and Aerosmith's Joe Perry and Dan Brown and Cindy Crawford have visited the island recently. Captiva was also a favourite getaway for President Theodore Roosevelt. The late Robert Rauschenberg, one of America's most famous 20th century artists and the forefather of Pop Art had his full time home on Captiva prior to his passing in 2008.
Captiva is approximately 5 miles long and a half a mile wide and is accessible by road from Sanibel. The island's only road, Captiva Drive, which runs the length of the island, is lined with spectacular multi-million dollar properties, stretching the width of the island. Two neighbouring houses are even look like the White House! There are no eye sores here with Captiva developments fitting into the lush, tropical scenery with nothing built higher than the tallest palm tree.
Visitors to Captiva can relax on the islands pristine beaches, which have the world's best shelling, and go fishing, snorkelling, kayaking and exploring. Off the beach, head to Andy Rosse Lane, which is lined with colourful boutiques, art galleries and a beachfront English pub, The Mucky Duck. For eating out, don't miss the renowned Bubble Room (bubbleroomrestaurant.com), a treasure trove restaurant designed around 20th century antique toys and vintage Hollywood, including a Macy's Christmas window display from 1932 and award winning cake.
Where to stay- A West Indies home is located on Andy Rosse Lane and is just a minute's walk from the beach. The four-bedroom, three-bathroom home sleeps up to eight people and offers a private pool and hot tub, an open porch with beach views, a pool table, seven TV's, a lift and a gas BBQ grill. The property costs from £3,808.61 per week and can be booked at royalshell.com/vrmgr/category/caphome.
How to get there - Charter flights are available from London Heathrow to Southwest Florida International Airport from £487 return with United (united.com), followed by an hour's drive to Captiva.