Best bars of the Balkans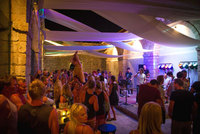 For those searching for somewhere unusual to let their hair down this summer, jump on a party cruise with Sail Croatia or an adventure tour with Balkan Road Trip and discover a selection of awesome alternative nightspots for a couple of late-night cocktails. Find converted cinemas, historic buildings and cavernous cave clubs with prices from just £299 per person.
Journey to the beautiful town of Mostar in Bosnia on Balkan Road Trip's five-day Bosnia Adventure and head to Ali Baba's club located just off the bazaar in the city's old town. Situated within a natural cave under the very foundations of the town, this remains one of the most super stylish places to chill out with a hookah and arguably the Mostar's most important cultural hub. Next, stop off at Kino Bosa in the bohemian town of Sarajevo, it's an old communist cinema-cum-bar where packs of free-thinking students gather for the cheapest beer in town and occasionally the odd film showing.
For even more impressive places to party, jump on one of Sail Croatia's Navigator cruises and head to Deep, an atmospheric cave club in Makarska. Revellers flock here for the variety of international and resident DJ's, packing a dance floor that looks directly out to the ocean and relaxing on the sunset terrace. Then journey to Dubrovnik, the final stop on the One-Way South route, and discover Lazareti. A former quarantine area for newcomers to the city, this ancient fortress-style building hosts plenty of live gigs, DJ appearances and most importantly Sail Croatia's very own Live Night.
Balkan Road Trip (balkanroadtrip.com) offers the Five-Day Bosnia Adventure tour from just £299 per person this summer, while Sail Croatia (sail-croatia.com) offers seven-day Navigator cruises from just £429 per person this summer.