Touring holidays gain younger family following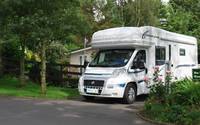 A top Lancashire holiday park says that more younger people are now gaining a taste for touring - thanks to parents who have decided to unhitch in favour of caravan holiday homes.

Moss Wood caravan park, near Lancaster, believes that a trend started last year is set to accelerate this season as increasing numbers of more mature guests call time on touring.

But their places on the pitches are instead being occupied by younger family members who often take on the touring caravan or motorhome from their mum and dad.

"It's an interesting development which we've never before witnessed," said Moss Wood director Henry Wild whose father, Syd, acquired the park in the mid-Seventies.

"There are a number of factors coming into play, but at the bottom line is a very optimistic outlook for the future of the touring industry in the UK," he suggests.

Henry reports that last year saw a record number of older tourer owners buying a caravan holiday home at Moss Wood with its easy access to the Lake District, Yorkshire Dales, and coast.

But in many cases, he reports, their touring caravan or motorhome still stayed in the family, often gifted or sold for a reduced sum to a grown-up son or daughter: "I think this is happening more often now because of the stay-cation trend of recent years, and which actually appears to be gathering pace," said Henry.

"A generation ago, families often took it for granted that they would go abroad for a holiday, but today many people regard it as a smarter move to stay in this country.

"This is persuading touring caravan owners to commit to buying a caravan holiday home at an earlier stage than previously, and for their older children to take over the tourer's reins.

"It's a fascinating about-turn to the previous definition of these guests as a maturing market, and I think signals a long-term renaissance of the touring holiday," said Henry.

Demand for holiday homes to buy at Moss Wood has often outstripped supply, but the park has now gained consent for an additional 40 pitches for privately owned leisure homes.

Details of the park can be found at MossWood.co.uk.